Christian Yount and Jabaal Sheard stress the importance of at-home education
Ever wondered what it would be like to have an educational recess with your favorite Cleveland Browns players?
On Wednesday, 100 pre-kindergarten children gathered at the Gordon Square Early Learning Center to experience just that. Activities included a football toss, corn hole, creative crafts and a football-themed pin-the-tail-on-the-donkey game.
The Cleveland Browns Foundation hosted the event to promote their new movement called 2,000 Days. 2,000 Days represents the number of days between a child's birth and the day they begin kindergarten. The movement was created to inform parents how important the early stages of their children's education is before they even step into a preschool classroom, and the important role they play in their child's development.
"Ninety-percent of brain-growth development occurs within that time," said Renee Harvey, Vice President of the Cleveland Browns Foundation. "We want to make sure the parents are really engaged with their child's learning and become an advocate with selecting high quality preschools, and elementary schools."
Jabaal Sheard, the Cleveland Browns' 2013 Walter Payton Man of the Year, is involved in all aspects of the Northeastern Ohio community. But the 2,000 Days initiative is something he knows can impact lives forever.
"I came from a rough neighborhood, and I actually didn't go to preschool or start school until kindergarten," said Sheard. "I didn't get that head start. I started a little bit behind. Getting kids to go to school early and getting them on the right reading level and math level once they start, that's just huge in life."
Sheard has been educating his son Jaiden often during the offseason. The two color together, do simple math problems and even have started to read books.
Jordan Cameron is more than just a Pro Bowl tight end. He's now a fixture in the community, especially when there are kids involved. Cameron's son Tristian is just beginning school.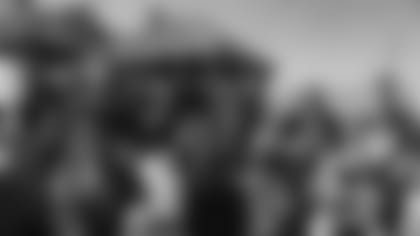 "Their minds are kind of molding and they're sponges," said Cameron. "It's good to take the learning from the classroom and take it home. It's really important to stress that to the parents. You can teach your kids things at home, as well as school, and I think it's important they know that."
A parent named Michelle brings her young kids Mya and Niko to the Gordon Learning Center several times a month.
"I was born and raised here, so I've been going to Browns games since I was little," said Michelle. "Browns players are teaching our kids and having fun. It's just awesome."
Seven other Browns players joined Sheard and Cameron including Darius Eubanks, MarQueis Gray, T.J. Heath, Jordan Poyer, Craig Robertson, Justin Staples and Christian Yount.