Sweat poured down Danny Shelton's face as he dropped to the ground and did push-ups in front of a group of laughing children.
The biggest smile in the crowd, though, was found on Shelton's face, as the Cleveland Browns' top draft pick soaked up the atmosphere inside his new team's facility at the Play 60 Youth Football Clinic portion of the NFL's Rookie Symposium.
Shelton missed out on a month of OTAs because he was finishing up his degree at Washington. He hasn't wasted a minute since he returned to Cleveland last week for mini-camp and was relishing the "home-field advantage" he was able to enjoy as he led hundreds of kids through a variety of football drills with his fellow rookie teammates.
"To have the rookie symposium in Cleveland, it's awesome," Shelton said. "It gives me an opportunity to get used to the area. Me being back at school, I didn't really get to experience the things the guys got to. It's really cool to be out here and for the other teams to experience my new home."
Tuesday's event was part of Day 3 of 4 for the AFC's rookies. The NFC rookies will begin their symposium Wednesday and make their way to Berea on Friday for a similar event. The respective four-day orientations are primarily stationed at the Bertram Inn and Conference Center in nearby Aurora.
The goal of the symposium, which is marking its 18th year of existence, is to "emphasize the sport's legacy and tradition of character and leadership as well as social and professional responsibility."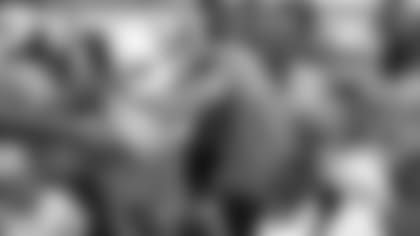 A who's who of current and former NFL players are in Northeast Ohio to lead discussions with the rookies. Among them: Phillip Buchanon, Cris Carter, Warrick Dunn, Eddie George, Donte Stallworth, Sammie Stroughter, Ross Tucker, Larry Fitzgerald, Justin Forsett, Brandon Marshall, Jordan Matthews and Mike Adams.
Shelton, Cameron Erving and the rest of the Browns' 12-man draft class made it fairly clear which portion brought out the most energy and enthusiasm.
"Today is probably the most exciting day for all of us to get out of the meeting room and interact with people and interact with kids," Shelton said. "We're living it up. We have great kids and they deserve a lot of our attention."
Asked to pick out a moment that stuck with him, Erving recalled the message passed along from Stallworth. The former NFL receiver, who spent the 2008 season with the Browns, was charged with DUI manslaughter in 2009. He's dedicated his post-football career to making sure new NFL players don't make the same mistake he did.
"It was really an eye-opener," Erving said. "It just makes you realize life is too short to cut it short off something that is easily fixed. Don't drive drunk, don't drive while you're intoxicated."
Shelton said he was encouraged by veterans, both with the Browns and at the symposium, encouraging the rookie class to ask for help whenever they're unsure with what to do. Though it may sound like a simple piece of advice, Shelton said it was imperative for the group to hear the message directly from the source.
"A lot of guys come in and try to be macho," Shelton said. "They want to be prideful. It takes a lot for a man to ask for help. We're 20, 21, 22 years old and we have all this money and we don't know what to do with it. We get put in the spotlight and don't know what to do. It's something that is necessary for us. We need to be told it's OK to ask for help."