With gloomy, rainy weather covering the area Thursday, it was a great day to be indoors.
The Browns' entire rookie class followed that strategy and got to check off a major milestone in the process. Led by Browns manager of player engagement Ron Brewer, the group hopped in a bus after lunch and headed to Canton's Pro Football Hall of Fame to get a full dose of the game's history.
"I was excited when I found out we were going," third-round quarterback Cody Kessler said. "I've always had so much respect for the game and respect for the quarterback position. It will be really cool to go there and see guys and the history of it and see guys who have played the game for so long and played the right way. They set the bar very extremely high for the rest of us that are coming in as rookies."
The trip to Canton served as one of the final chapters to the Browns' rookie transition program, which has unfolded over the past two weeks. The group breaks for the summer Friday and won't be back in Berea until late July for the start of training camp.
For the entire group, it will mark the official start to their pursuit of one day landing in a place like the one they visited Thursday.
"Since you were a kid, you looked up to those players," second-round linebacker Emmanuel Ogbah said. "I feel like it's a motivation factor to see those guys up there. You want to be up there, too."
Most of the group had never been to Ohio before they were drafted or signed, let alone to Canton to see the Hall of Fame. Now, as they continue to settle more and more into their new surroundings, they'll have one of the NFL's top resources right in their backyard.
"To see guys that have gone before and just to be in that environment is big," fourth-round tight end Seth DeValve said. "Just being in the NFL locker room is an environment that makes you better. Surrounding yourself with guys who are better than you makes you better."
Each of the 14 members of Cleveland's 2016 draft class was able to see the draft card the team turned into the league before their respective pick was announced.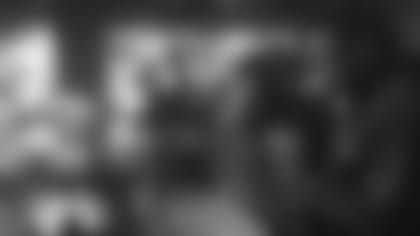 One of the players who came in with a little more institutional knowledge of the Hall of Fame? Undrafted center Mike Matthews, whose father Bruce, a legendary offensive lineman, was inducted in 2007.
Here's some more player reaction from social media during the trip.