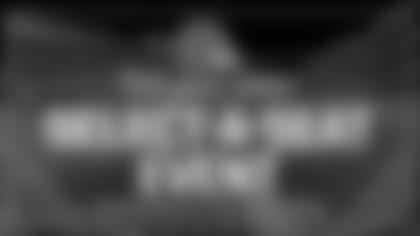 ](http://forms.clevelandbrowns.com/af2?LinkID=CH00096882eR00000070AD)
On Saturday, April 29th from 11:00 AM – 3:00 PM the Browns will hold a Select-A-Seat event at FirstEnergy Stadium for fans interested in new ticket memberships.
This event will be open to the public. Parking is available on the north side of the stadium for $5. Fans will enter the stadium at the top of the stairs on the North side of the building.
Guided tours of FirstEnergy Stadium will be provided by Browns staff highlighting the best available locations, price points, and group experiences.
Day three of the Draft will be aired at the stadium and photo opportunities with Swagger will be provided. Alumni will be present at the event, including Brian Washington and Frank Stams.
Discounted concessions will also be available to all attendees.
For any additional questions, please call the Ticket Office at 440-824-3434. Fill out the form below to register for this event.
*Select-A-Seat Event is a separate event from Season Ticket Member Relocation
---
Select-A-Seat Reservation Form