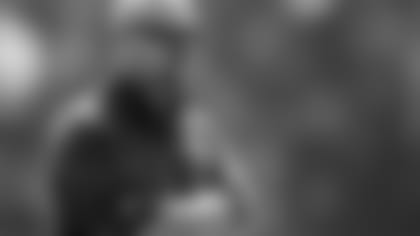 After 11 training-camp practices and some final details worked out by the coaching staff, the Cleveland Browns are ready to head to Detroit for their first preseason game of 2014 Saturday night.
The game is highly anticipated for a lot of reasons, but none larger than the first look at the Browns' quarterback situation.
Brian Hoyer will get the start and, depending on how the game goes, will likely be the only Browns' quarterback to work with the first-unit offense. Duke Johnson Jr. is expected to enter the game with the second group.
But coach Mike Pettine and the coaching staff have kept the rest of the details about playing time – including the amount of work for third- and fourth-string quarterbacks Tyler Thigpen and Connor Shaw – "pretty vague" with the players.
"This thing can go a lot of different ways, as you know," Pettine said. "I didn't want to give them exact specifics or exact counts. You never know what can happen early on. I told those guys I'd rather them be prepared to play more than they think they're going to play than give them a number and then put them over it."
Besides quarterback, other competitive positions on which Pettine will focus most of his attention are running back and offensive guard. Ben Tate is the starter at running back, but rookie Terrance West has made a strong push and is expected to get a heavy work load against the Lions.
John Greco is starting at right guard, but Garrett Gilkey has also looked solid at the position.
"I think there's good competition there," Pettine said. "I want to see how (rookie left guard Joel) Bitonio plays. I'm very interested in that. (I'm looking forward to seeing) the receivers."
Pettine is confident his coaching staff has the  team ready to play a game.
"I think the coaches have done a good job towards the end of this week getting the guys ready for what we're actually going to show," he said. "We've probably given them a little more to study than they'll actually run so the ready list and the call sheet are different sizes, but I think we've had a good build-up to it. We're all looking forward to going against somebody else."
ELSEWHERE AROUND THE NFL …
AFTER LEADING THE NEW YORK JETSto a field goal after taking over at quarterback for Geno Smith (who led the Jets to their only touchdown) against the Indianapolis Colts in Thursday night's preseason-opener, Michael Vick said there was a possibility he could see action in cameo appearances during the regular season. "When the time calls for it," Vick was quoted as saying on NJ.com. "I think the coaches will see fit that that's put in."
DETROIT LIONS RUNNING BACKReggie Bush said he can empathize with Johnny Manziel when it comes to having a high-profile existence off the field. And he has some advice for the Browns' rookie. "For him, he's going to have to learn how to say no and that's going to be extremely hard because it's going to be the people closest to you who you're going to have to learn to say no to," Bush was quoted as saying on ESPN.com. "And then you're going to have to keep your circle small so that you can be allowed to focus on football, because without football, nothing else is going to (matter)."
ALTHOUGH ROOKIE CORNERBACKDarqueze Dennard is listed as a third-string on Cincinnati's depth chart, Bengals coach Marvin Lewis told Dan Hoard, the Bengals' radio play-by-play voice, that Dennard is "the best rookie corner I've seen." >>Be sure to tune in Monday through Friday, 1 p.m. to 3 p.m. ET, for "Cleveland Browns Daily, Driven by Liberty Ford" on ESPN 850 WKNR or catch the live stream right here on ClevelandBrowns.com. We take your questions at 216-578-0850 and via Twitter @Browns_Daily.