We'll have a preview of the Browns first preseason game on Friday, but here are players to watch extra closely on Saturday.
There might not be any three-play, 81-yard drives from Hoyer against the Lions. That's fine. Hoyer isn't a lightning-rod quarterback. The 28-year-old's strength is methodically marching the Browns down the field and controlling the football – things head coach Mike Pettine has stressed he wants his program to be about. Look for Hoyer to show off his expertise of the offense, to get rid of the ball quickly and to keep the chains moving.
The strides Manziel has made in the last few days of practice is easily the most promising development during training camp. Now that he's confident of where he's throwing the ball, deep completions have become the norm. If Manziel can translate his growth into touchdowns on Saturday in Detroit, the coaching staff may not have any choice but to start him against the Redskins and Robert Griffin III on Monday Night Football.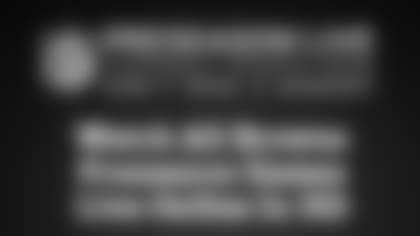 ](http://www.pjtra.com/t/4-74031-83366-55814)RB – Terrance West*
We know what Ben Tate can do in live games. Tate can grind out yards and carry the load. Tate is arguably the best running back in the AFC North. But we've never seen West in the NFL. His shifty athletic movements during training camp have provided the most energy out of any Browns running back. Coaches and fans alike 'oh and awe' about how quickly West can peddle his feet for his burly 225-pound frame. Let's see if the noise he's generating can give the Lions fits.
We'll have much more soon on the Browns' unofficial spokesman returning to play his former team. But Burleson hasn't been shy about wanting to prove to the Lions he's still a value asset in this league. Not there's any bad blood at all, but he'd love to get his chance to do a shimmy in the end zone.
Can we nickname Snead "Rock Solid?" In a wide receiver by committee approach, Snead is not only pushing for a roster spot, but playing time. The undrafted free agent is rarely dropping passes in training camp, and more surprisingly, scoring touchdowns. If Snead can show his reliability in the second half against the Lions, he may garner some reps in the first half against the Redskins.
It will be interesting to see how much Mike Pettine plays the rookie guard from Nevada. Bitonio is listed as the first string guard on the depth chart, but as his offensive line coach Andy Muller says, "He's very, very young." Look for Bitonio to get some second-team reps on Saturday, in addition to building cohesion with Joe Thomas and Alex Mack early on.
---
The time the Lions tried hiring WR as a scout
Paul Kruger![](/team/roster/paul-kruger/f2123f88-7097-4c0c-a25c-54966603226f/ "Paul Kruger") foucsed on regaining "special guy" status
His City: 's big plans for Cleveland
---
Billy Winn is stealing most of the attention for most improved on the defensive line, but Bryant is nipping on his heels. Fast, violent and relentless, Bryant's stuck out like a sore thumb in training camp in terms of his enhanced skillset.
If Manziel is the rookie growing the fastest on offense, Kirksey's only a step behind him on defense. Last year the Browns' linebackers often found themselves chasing tight ends and running backs all over the field. That's why Kirksey was drafted. He can cover. It's his big hitting ability and smarts that Pettine and the defensive coaches are thrilled about. They knew the potential was there with Kirksey, but it's showing earlier than anticipated.
Does seeing his name listed second on the depth chart light a fire underneath Sheard? It's quite possible this was a motivational tactic from Pettine and the coaching staff. Sheard was pegged as the breakout candidate in minicamp. Training camp has been quieter than expected from the 25-year-old but he has plenty of time to rev back up the enthusiasm.
As soon as Gilbert strapped on the pads in training camp, he looked like a completely different player. The rookie from Oklahoma State is the right amount of physical – challenging receivers without getting penalized. Interceptions have been aplenty from him, too. Watch for Gilbert to sub intermittently with Buster Skrine early on against Detroit as the outside cornerback.
Coming off a surgically repaired knee, return man Travis Benjamin probably won't see the field much on Saturday. Gabriel, whose built identically to Andrew Hawkins, has flashed signs of being able to take one to the house. He's shifty and his vision is not like most rookies. Can he dethrone Benjamin as the starter? Probably not. Could he make the roster being a special teams standout? For sure.