Running back Duke Johnson showed the electricity he displayed at the University of Miami on his way to becoming the program's all-time leading rusher early Friday during the Cleveland Browns' rookie mini-camp.
On a flare pass from quarterback Connor Shaw, Johnson caught the spiral near the sideline, juked past two diving linebackers and bolted up the field for a significant gain. Coaches and offensive teammates were hooting and hollering as Johnson quietly went about his business.
These are the types of plays, and attitude, general manager Ray Farmer and the Browns coaching staff had in mind when they selected Johnson in the third round of the 2015 NFL draft.
"I want to give us another dimension on offense," said Johnson, who was drenched in sweat after a sweltering May day in Cleveland. "It could help us out with mismatches, when need be. I think I came out here and showed what I can do, and I had fun with the guys."
Johnson wants to do it all in Cleveland – return kicks and punts, carry the ball as much as possible and even split out wide as a receiver now and then. Listed at 5-foot-9 and 210 pounds, Johnson is slippery for would-be tacklers and, just as Farmer described him, he's short, not small. 
For as much as he wants on his plate as a rookie, Johnson's also keeping his list of rookie goals short. Just one word, actually.
"There's no better feeling," Johnson said. "That's why we play the game. And if that means me playing special teams punt protector, I'm all for it."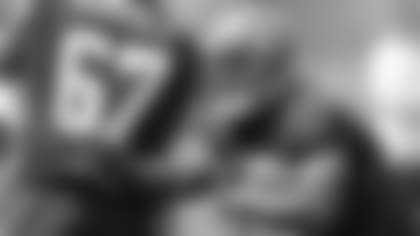 In order to bring a winning attitude, Johnson has sought out help. Coming from such an esteemed college football program like "The U," the Miami native has his fair share of former Hurricanes mentoring him.
Johnson has worked out with former Browns running back Willis McGahee on the Coral Gables campus, and he's been in touch with former All-Pro Redskins running back Clinton Portis, who tweeted Cleveland got a steal in Johnson shortly after he was picked.
But the most instrumental of Miami's famed running backs has been retired Indianapolis Colt and four-time Pro Bowler Edgerrin James.
"He told me about taking care of my body, staying healthy," Johnson said. "But mainly, being able to take coaching and being on time.
"The things that majority of those guys did after leaving college and going to the next level; I'm really hoping I can have a career like they did."
Johnson has also been in touch with Browns second-year running back Terrance West, who reached out to him.
"Just like myself, he's ready to compete and fight for the starting job," Johnson said. "We understand at the end of the day, we all are just going to come in and make each other better."
With Johnson already aboard and busting his tail in Cleveland, the Browns' running backs room is now oozing with young talent.