Pass rushing is an art form. Like an artist, a pass rusher needs time to develop his own style; his own credence.
As the 2014 season winds down, perhaps no player has come on stronger on Cleveland's roster than Barkevious Mingo.
Said Mike Pettine after the win against the Falcons: "Mingo played one of his better games - probably his best game this year. I don't think it showed up in the stats sheet, but he did a real nice job for us."
Against the Colts, it was more of the same for Mingo. The stat sheet only shows two tackles and a sack, but it's the other plays that the former first-round pick from LSU made that caught our eye.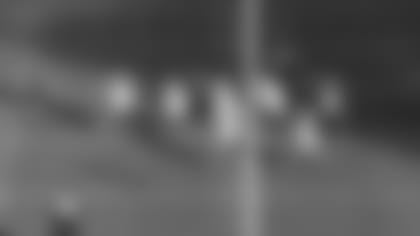 You'll notice as the season has gone along, the Browns have adjusted their fronts, here using four down linemen – instead of Cleveland's traditional 3-4. Mingo has said in the past he feels more comfortable sticking his hand in the dirt when rushing quarterbacks. So, defensive coordinator Jim O'Neil has tinkered with some play calls to aid Mingo.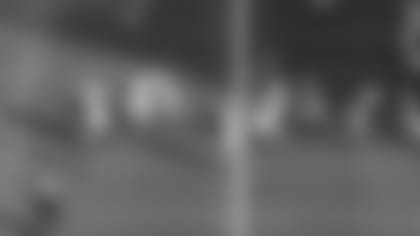 Even with a shoulder injury, Mingo has gotten progressively better at using the bull-rush technique. When he first got into the league last season, Mingo relied heavily on his speed. He would try and run around offensive tackles more than using an array of moves. Now, like an artist, he's perfecting his craft. Desmond Bryant (blue circle) takes on two blockers, hoping to create a seam for Mingo.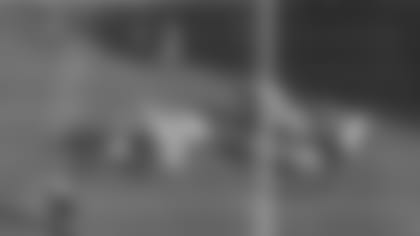 Mingo uses his left arm to push off of Colts left tackle Anthony Castonzo, freeing himself to attack quarterback Andrew Luck. Bryant successfully took on two blockers giving Mingo a lane. Billy Winn (black circle) also is closing in on Luck.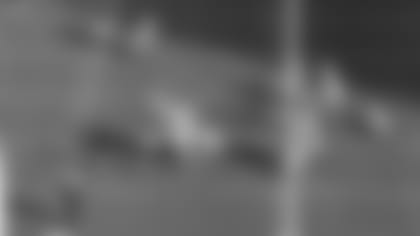 Mingo hits Luck just as he delivers the pass, which sails incomplete. This was the first third-down of the game and prevented Indianapolis from gaining any early momentum.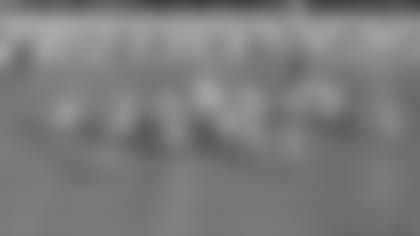 Second quarter now. Mingo in the standup position. Because he's been an aggressive force early on in the game, the Colts slide a tight end to try and double no. 51.
Mingo plants his right foot and spins free.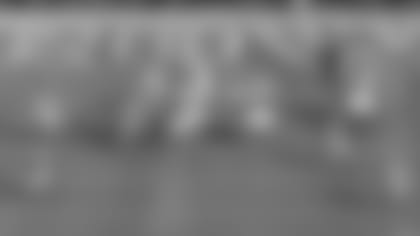 It's hard to see from this angle, but Mingo pushes Luck to the ground. The quarterback's deep throw was affected and Joe Haden wound up nearly picking the pass off.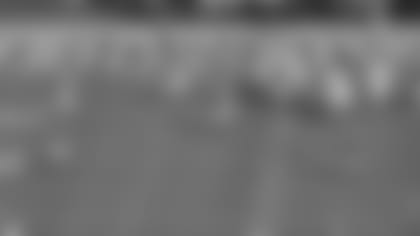 Another play that doesn't show up in the stat sheet. Here, pre-snap, Mingo is communicating with cornerback K'Waun Williams – likely pointing out a potential quick-hitting screen pass.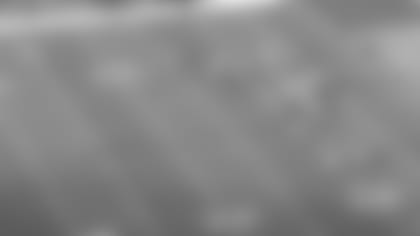 Mingo times his jump perfectly, and just like he communicated to his defensive backs, the quick-hitting pass came. The linebacker knocked it to the ground and one play later the Colts wound up punting.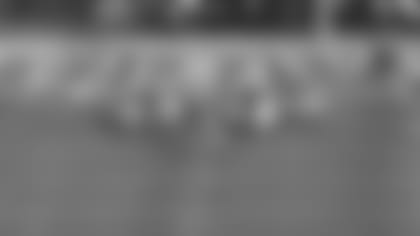 But Mingo's biggest play came in the fourth quarter. Again, Cleveland is lining up the outside linebacker as a defensive end.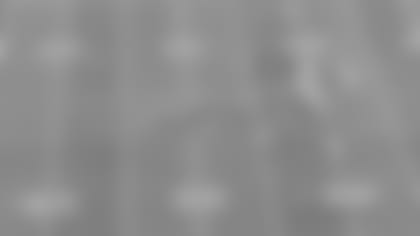 Bum shoulder and all, Mingo pivots inside, creating enough space to pounce.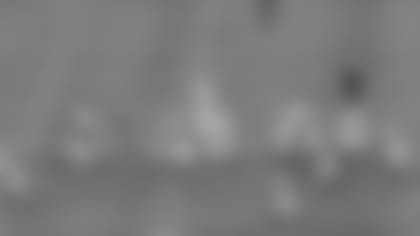 Even while being held (the penalty wasn't called) Mingo generates enough pressure to make Luck flee the pocket.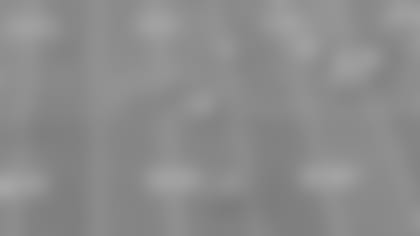 Ahtyba Rubin finishes the job by closing in on Luck. His throw is high to intended target T.Y. Hilton and Jim Leonhard picks off the tipped pass.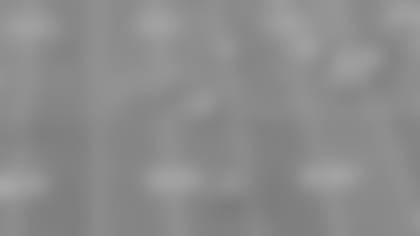 Those who are judging Mingo on sacks alone aren't properly evaluating the clear improvement he's shown in his second year as a professional. Mingo is blowing up plays on offense and over the course of the second half of the season has become a difficult player for opposing linemen to deal with.
Mingo's importance is growing weekly. He's been a reason why this defense has been able to elevate itself to one of the premiere units in the league.