Thank you to the following individuals who are giving back! We encourage community service and all acts of giving back and are proud of our fans who continue to make a difference.  These outstanding individuals are pillars in their communities and inspire us all to #give10.
Name: Ryne Lorek
Hometown: Hutto, OH
What they do to give back:
Ryne's son was born with Ocular Albinism and Muscular Cerebral Palsy, but that does not slow their family down from playing adaptive sports and giving back to the community. His family even started CTX Ability Sports because of his children's disabilities. His son is an eight-year-old die hard Brown's fan, just like his Daddy. In addition to his work with CTX Ability Sports, Ryne and his family collect donated Bed, Bath, & Beyond items and give them to the soldiers of Fort Hood every month.
Name: James Lichniak
Hometown: Olmsted Falls, OH
What they do to give back:
James and his wife have been involved in Relay For Life in Olmsted Falls for 5 years. He introduced his PA students to community service by running a Health Promotion tent at the Relay to discuss with people topics such as cancer screening, cancer awareness, and promotion of a healthy lifestyle in an effort to reduce the negative impact cancer makes on everyone. James also works with his students at screenings around the city to further spread the message.
Name: Lori Standen
Hometown: Westlake, OH
What they do to give back:
Lori is a local small business owner who has made it her mission to give back to the Cleveland community. Each month, her studios select a "Charity of the Month," and she offers and teaches donation-only Pure Barre classes to raise money for the selected charities. She also donates her personal time at the charity's event.  Her goal is to give back and inspire her 2,800 clients to join in and give back as well!
Name: Richard Gandarillas
Hometown: Gahanna, OH
What they do to give back:
Since 1986 Richard has been a volunteer, Big Brother, Board Member, National Advisor and cheerleader for Big Brothers Big Sisters. He is currently matched to his sixth Little Brother since joining the organization. Through positive one-on-one, school-based and camp program mentoring, he contributes to the development of competent, confident and caring kids onto adulthood.
Name: Cheryl Senko
Hometown: Parma, OH
What they do to give back:
Cheryl volunteered to #give10 by organizing a fund raiser for her friend's son who is battling Hodgkin's disease. The fundraiser not only gained awareness around the disease in her local community, but raised over $7,000 for her friend to let her and her son know that they are not in this battle alone. Her dedication to #give10 is an inspiration to us all.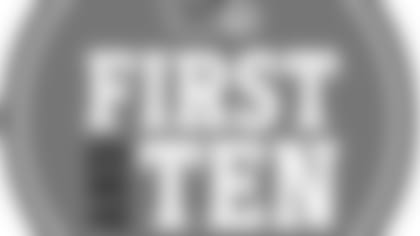 Make sure to let us know how you are giving back! Share your stories of goodwill on the First and Ten webpage or through @BrownsGiveBack to be recognized for your work!