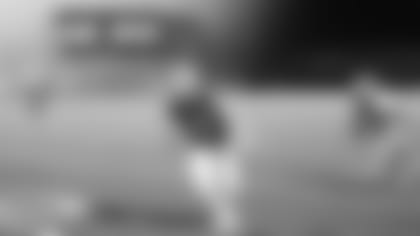 | | | | | | |
| --- | --- | --- | --- | --- | --- |
| Final | 1st | 2nd | 3rd | 4th | Final |
| Lake Catholic | 0 | 7 | 7 | 0 | 14 |
| Notre Dame-Cathedral Latin | 0 | 14 | 7 | 7 | 28 |
1st Quarter
2nd Quarter
L – Corbin, 1 yard rushing TD (PAT good)
N – Roberts, 47 yard reception TD (PAT good)
N – Forbes, 1 yard rushing TD (PAT good)
3rd Quarter
L – Corbin, 1 yard rushing TD (PAT good)
N – Mounts, 5 yards rushing TD (PAT good)
4th Quarter
N – Richardson, 2 yards rushing TD (PAT good)
Coach of the Week: Andrew Mooney (NDCL)
MVP of the Game: Harrison Richardson
Key Stats (by player):
NDCL
1. Charles Forbes (QB #18) 5/11 107 passing
2. Alec Roberts (WR #35) 2 receptions for 63 yards
3. Brandon Mounts (RB #25) 20 rushes for 102 yards
Lake Catholic
1. Jack Gibbons (QB #14) 9/23 passing
2. Eddie Walsh (WR #11) 3 receptions for 30 yards
3. Josh Corbin (RB #30) 24 rushes for 149 yards
Cleveland Browns First and Ten
While visiting a different community each week for the Cleveland Browns High School Game of the Week, we come across an overwhelming amount of selfless individuals who help make high school football so special in their respected communities. This week we met Frank who is from Willoughby. Frank is the Notre Dame-Cathedral Latin Athletic Director. Not only does Frank give a big portion of his time to youth athletics by having this job, he also enjoys being active in his grandkids schools in Willoughby. Frank says he enjoys being community minded in many different aspects, but his favorite thing is be surrounded by athletics. Thanks Frank!
How are you giving back? Share your stories using #give10.
Make sure to follow @BrownsYouthFB on Twitter to stay up to date on all Cleveland Browns youth and high-school football programing throughout the year.