Shane Wynn is the shortest skill player in the NFL at 5-foot-6. Knock the height all you want, but those in attendance didn't need a magnifying glass to spot the Cleveland native surging under the FirstEnergy Stadium lights.
Playing in his native city, Wynn caught a touchdown and had an electric punt return Thursday night in the team's second preseason game against the Buffalo Bills.
Wynn was on the receiving end of quarterback Johnny Manziel's 21-yard touchdown pass early in the fourth quarter. And while given every opportunity to talk about himself in the locker room after the game, the undrafted rookie quickly credited his Browns teammates on the collaborative 96-yard touchdown drive.
"Give credit where credit is due. The offensive line made some key blocks and Johnny does what Johnny does," Wynn said.  "A play is never dead with Johnny Manziel."
Turns out, a play may never be dead with Wynn, either.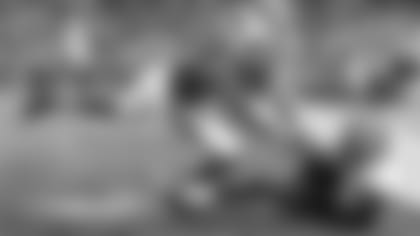 The Glenville High School product has a turbo button in the open field, so much so that the Browns special teams could be his fastest route to the 53-man roster.
The Browns defense forced a quick three-and-out of Bills quarterback E.J. Manuel immediately following Wynn's touchdown grab. Backpedaling to receive Buffalo punter Colton Schmidt's 51-yard wallop, Wynn made a well-timed hesitation move to split two Bills, and it was off to the races. Wynn shed five tacklers as he raced down the sidelines for a 57-yard return.
The special teams play of the night might have been wiped out because of a facemask penalty on Jalen Parmele, but the coaches will remember Wynn when they watch film together Friday.
"I stuck my foot in the ground, got north and trusted my speed," Wynn said. "I take every opportunity seriously. I don't see any leeway in trying to make the team or anything like that. I'm just going to go out and practice and work hard as I've been doing."
Mental mistakes plagued the return game in 2014, and a few months back many expected incumbent Travis Benjamin would face heavy competition at the spot. On Thursday, Benjamin, who has been otherwise solid throughout the preseason, fielded a punt at the 2-yard line rather than letting it bounce into the end zone for a touchback.
Keeping a sixth or seventh receiver on the roster specifically for one job is a tough argument to win, but Wynn showed Thursday he can be a threat as both a receiver and return man.
Football playmakers come in all shapes and sizes. Andrew Hawkins and Taylor Gabriel overcame odds, why can't Shane Wynn?