It's June. Basketball is dominating the air in Cleveland. Heck, the weather in Ohio hasn't even completely warmed yet.
So that means the Browns offense we are seeing during OTAs and next week's veteran's minicamp is not the final product.
Two pieces to the puzzle haven't even caught a pass yet in practice.
Rookie wide receiver Vince Mayle (thumb) and rookie tight end Randall Telfer (foot) are both still sporting casts on their respective injuries. But once the weather chills, or even sooner in Mayle's case, these Pac-12 youngsters could diversify what the Browns do on offense. The pair joined the rest of their rookie teammates at FirstEnergy Stadium on Wednesday for a youth football clinic.
Mayle jammed his thumb on Jan. 24 during the Senior Bowl falling to the ground on a routine block. Cleveland's fourth-round pick originally thought the injury was a sprain, but discovered it was a little more serious at the NFL combine in Indianapolis. The Washington State alum had a procedure on the thumb last month.
A splint on his thumb hasn't sidetracked Mayle's integration of the offense, though. The rookie wears a red non-contact jersey during 7-on-7 on other passing drills to start learning the depth of Cleveland's route trees.
Mayle has been working closely with veteran teammate Dwayne Bowe in the classroom. Bowe and Mayle are the exact same height (6-foot-2) and Mayle outweighs Bowe by just three pounds. Bowe has instructed Mayle about using different tempos in-and-out of routes and how to use his frame against smaller defensive backs.  
"Right now it's about mental reps, as many as I can," said Mayle, who hopes to be a participant in training camp. "I'm taking them at multiple spots. The guys that are running are taking one rep during the play. I'm taking them at three different spots in my head."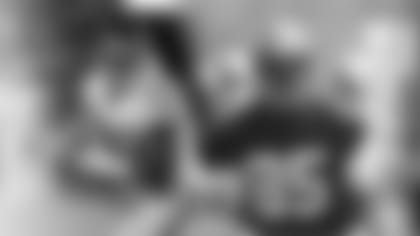 Telfer injured his foot in USC's Holliday Bowl game win against Nebraska Dec. 28. Telfer tried pushing through the Lisfranc injury in his foot but opted for surgery in late February – and no distinct timetable has been determined for his return.  Rehab has kept Telfer off the field entirely since his arrival in Berea and the work with the training staff has entailed a lot of stability exercises to get strength and balance back in his foot muscles.
"It's a little give-and-take, because like you said, I'm not on the field running the routes," said Telfer. "I'm not there to make those mistakes on the field. But at the same time, I've been drawing in the playbook, getting with coach (Brian Angelichio) and talking over all the notes."
Mayle is the only Pac-12 wide receiver to post back-to-back 250-yard receiving games. His 1,483 yards were third-most in the entire country last season. Telfer caught 9 touchdown passes his first two years and USC before being used as more of a blocker as an upper-classmen.
Last season on offense, the Browns saw major contributions from rookies Isaiah Crowell, Terrance West, Taylor Gabriel – all skill players who carved out significant and distinct roles. Despite early injuries, Cleveland remains upbeat Mayle and Telfer could eventually do the same.
"I do," said Telfer when asked if he'll make an impact this season. "Really what's been on my mind is working every day and trying to get better. I look at myself as a well-rounded tight end that's learning the offense."