Nine days before the Cleveland Browns season opener at MetLife Stadium against the New York Jets, the running back position has become a little more clear: Isaiah Crowell has the edge to get the starting nod in the backfield.
"The whole body of work," coach Mike Pettine told reporters Friday on a conference call.
The telltale sign of Crowell's emergence came Thursday night in Chicago. The second-year pro enjoyed the preseason finale in sweatpants from the sidelines while his counterpart, Terrance West, played the entire first half, rushing nine times for 35 yards behind a reserve offensive line.
"We wanted to give Crow the night off, and give Terrance a lot of carries," Pettine said. "I would say Crow has an edge. That's fair to say."
An undrafted gem plucked by general manager Ray Farmer last spring, Crowell scored eight touchdowns, averaged 4.1 yards per carry in his rookie season and had hallmark performances in wins against the Saints, Steelers and Falcons. Crowell effectively uses a powerful lower body on his 5-foot-11, 225-pound frame to shed tacklers as a physical, one-cut runner. He's also developed an often punishing stiff-arm since entering the league.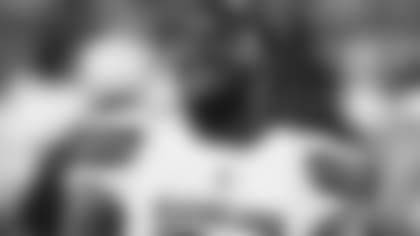 Earlier in the summer, running backs coach Wilbert Montgomery challenged somebody in his unit to step up and snatch a job that was clearly there for the taking. Crowell did just that.
"He's a guy that came in, worked hard, saw an opportunity, seized it, had a heck of a rookie season for us," Pettine said. "We're looking for him to take off more in Year 2."
The Browns still have plans for West, who led the club with 673 yards rushing last season. And offensive coordinator John DeFilippo has said he will turn to the hot hand in his backfield. 
A rare burly running back who can juke defensive backs out of their cleats, the 5-foot-10, 225-pound West will still likely receive carries against the Jets, but Cleveland wants to see daily consistency from the 24-year-old.
"Terrance, it's been well-documented, has had his ups and downs," Pettine said. "He flashes, at times, brilliance and then other times he gets a minus on the grade sheet. That's always been some of the issues we've had with him. We know he can do it; it just has to be on a more consistent basis. That's one of the reasons why we felt like he needed to get a good amount of work last night."
And let's not forget about Duke Johnson. A hamstring injury early in training camp and a concussion suffered against the Buccaneers limited the rookie running back to just one carry in the preseason. Johnson is still going through the NFL's concussion protocol, but Pettine was not ready to rule him out for Wednesday's practice.
One thing is for sure about the 2015 Browns: They'll rely heavily on running the football, and Crowell appears poised to get the first crack at leading the offense alongside quarterback Josh McCown.