With the quarterback competition long behind him, Duke Johnson Jr. was able to show Cleveland what they've wanted to see all along: himself.
"Today was a big step for me," said Manziel.  "When I get into the game, I see [openings in the defense] that I just have to trust. I'm getting better at little calls that can help throughout the offense."
Yes, against the Chicago Bears there were some bumps on offense. Manziel fumbled on a sack, and his statistics paint a picture of needed improvement in accuracy – 6-for-17, 83 yards passing, one touchdown and zero interceptions.
But boy, were there some electric plays from the rookie quarterback. Now that the learning curve of the playbook has been handled, Johnny Manziel isn't afraid to play like Johnny Football anymore.
"That's who he is," said Mike Pettine. "Somebody said on the sideline, 'There's Johnny being Johnny.' There was one play where it was no, no, no, yes, yes, yes that was just typical of his playmaking ability."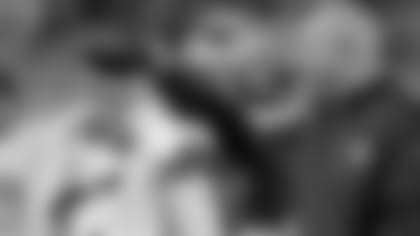 Manziel played most of the first quarter, all of the second and the opening series of the third, totaling 33 snaps. Three of the rookie's five drives ended in points.
Midway through the second quarter, On third-down and 10 from the Chicago 29-yard line, Manziel pulled some renowned magic tricks out of his back pocket. With Chicago defensive linemen diving at his feet, Manziel dodged and weaved through the traffic, eventually firing a bullet to wide receiver Nate Burleson for 27 yards.
"I give credit to Johnny," said Burleson in the locker room after the game. "I did the easy part. I just ran the route, and once I saw him scramble a little bit, the benefit of having a quarterback like that is that it makes it easier on you when plays break down."
Bootlegging to his left, Manziel tossed a one-yard touchdown pass to tight end Jim Dray on the very next play.
Manziel was most dangerous on Thursday when he used his legs. His four carries for 55 yards would've led the Bears in rushing, by a wide margin.
In particular it was a 22-yard scramble that stuck out. Right before halftime, Manziel was admittedly more inaccurate than he wanted to be. Some throws were getting away for the quarterback.
"I went to the right place a few times," said Manziel. "I think I just needed to man-up and make the throw in order to give them a better ball."
Alertly, Manziel knew he could take matters into his own hands – or feet for that matter.
It was second-down and 15 and the Browns lined up in shotgun with four wide receivers and a tight end going out for a route. If you watch the replay, Manziel immediately recognizes the Bears were not using a linebacker to spy on him. The quarterback darted up the right sideline and slipped out of bounds before any Chicago defender could put a lick on him.
"I think when you run the zone read with him, he can get a chunk of yardage and then get down," said Pettine. "I think that's important. A lot of quarterbacks don't know how to slide and it's obvious that he does."
There's no telling when Manziel's next snap could come. Could it be Week One against Pittsburgh in some sort of package? Could it even be this season?
No matter the situation, Manziel knows he has to be ready when his number two jersey is called.