After a frustrating and "unacceptable" loss to the Bengals, the Browns will have a chance to redeem themselves Sunday against the Jets.
"We've dug this hole, so we have to climb our way out of it," head coach Hue Jackson said earlier this week. "And the only way you are going to climb your way out of it is by working." [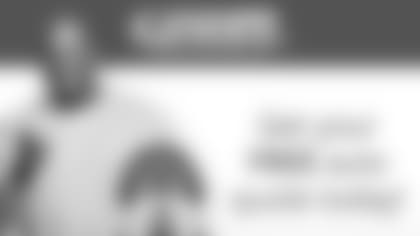 Jackson took ownership of a disappointing 0-4 start, but maintained his group hasn't shown any signs of discouragement.
"This team won't quit. I've never been a part of anything that has ever quit and I won't allow that," he said. "I just think that's who we are and that's never going to change. What we're chasing, though, is winning ... We understand what our job is and the losing sucks, I'll be the first to tell you that and I think our players will tell you that, too, but at the same time, we have a job to do. We have to do our job better. Like I said, the only guys that can change it are the guys that are in that room. We have to play better."
At long last, rookie defensive end and No. 1 pick Myles Garrett is set to make regular season debut this weekend.
Jackson, who said last week Garrett would give Cleveland's defense a "jolt," stressed he didn't want to "put too much pressure" on the youngster in his first game.
"Our football team has to play well, but can he help? Yes. He is a really good player," he said, "but we all have to play well. Then he has to do his part in the game and do his job. Hopefully, defensively, we will be able to do what we want to accomplish on defense."
Garrett has yet to play after suffering a high ankle sprain days before the season opener. The Browns defense, which has shown promise this year, took a step back last week, allowing a season-high 350 yards. They also struggled to slow down quarterback Andy Dalton, who passed for four touchdowns and a 61-yard score that punctuated a 21-point second quarter.
Garrett, who's expected to boost the pass rush, could help the Browns get back on track in addition to the return of defensive lineman Danny Shelton (calf).
With injuries to starting receivers Corey Coleman (who was placed on injured reserve with a broken hand) and Kenny Britt, who is doubtful to play because of a groin/knee injury, the Browns are continuing a next-man-up-approach with a group that has struggled early this year.
This past week, they re-signed Rannell Hall to their practice squad and added former Eagles receiver Bryce Treggs. "We will figure it out. We have to keep figuring it out," Jackson said. "You guys have never heard me complain about any of that. That is just part of the National Football League. Nobody likes it, but nobody cares. Next guy up, and we'll find a way to get it done." ​4. Falling behind early hasn't done Cleveland's run game any favors. But Jackson said he has confidence in running back Isaiah Crowell, who has been limited in his first four games.
"Anything that's going on with Isaiah, I take responsibility for," he said. "As I told you guys before, until we get this guy in a rhythm of running, it's unfair for anybody to question what he's doing. We have not been in a situation where we can hand this guy the ball the way I think you have to hand a back the ball. All of those questions can be directed at me."
Crowell has run 46 times for 139 yards in four games. "I believe in Isaiah Crowell. No question," Jackson said. "I have to get this guy the ball handed to him."