ClevelandBrowns.com has you covered with all the news, notes and quotes as the Browns enter the second week of 2021 Training Camp at the CrossCountry Mortgage Campus.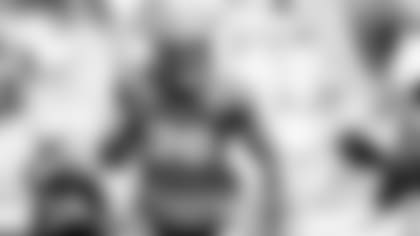 Jeremiah Owusu-Koramoah looking to make up for lost time in Browns debut
Aug. 12 (4:45 p.m.) - Jeremiah Owusu-Koramoah hopes he'll be given plenty of snaps Saturday when he makes his Browns debut in Jacksonville.
"I'm probably looking to play a lot because I missed those in-practice reps," he said Thursday before the Browns' final training camp practice before their first preseason game. "I'll probably play a lot come the game, but we will see."
Owusu-Koramoah is simply eager to show the Browns what he can do, but he's also hoping to play a little catch-up. He admitted Thursday he's felt behind, at times, since he was placed on the Reserve/COVID-19 list and missed the first five practices of camp, but he still expects to be fully up to speed soon.
"I thought I was up to speed when I first came back – I did the walkthroughs and I ran through the plays in my mind and ran through the plays on the white board," he said, "but there is nothing really like those in-game or in-practice reps to be able to simulate exactly how it feels to be out there and to have other guys coming at you ready to block you, trying to execute and being able to process things in a split second. I'm not too far back and I'm not far back at all in my mind, but those things do come with experience."
One way he thinks he can get there faster is by taking a heavy load of snaps Saturday. He said he wasn't sure how big of a workload the Browns have planned for him, but head coach Kevin Stefanski said Thursday that all healthy rookies are expected to play.
That means Owusu-Koramoah will be on the field, and he won't be taking a play for granted.
"It's really just to impress the team, impress the coaches and show that I can contribute in the best way that I can and hopefully earn my spot," he said. "Saturday night will be a good experience for me to be able to get those reps that I was mi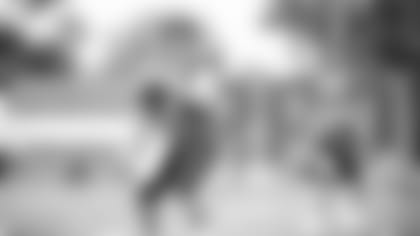 Stefanski says Browns will rest 'majority of the starters' in 1st preseason game, expects all healthy rookies to play
Aug. 12 (1:47 p.m.) - Kevin Stefanski revealed Thursday he plans to rest most of the Browns starters in Cleveland's first preseason game Saturday against the Jacksonville Jaguars.
"The plan will be to rest the majority of starters," he said. "I look at it as a great opportunity for young and old players to go out there and compete against a different colored jersey. It's always fun to see the guys out there making plays and seeing their teammates get excited about it. We're looking forward to the experience of that first preseason game and seeing the guys out there. It's all part of a teaching progression and learning progression. We'll learn from the good and the bad that occurs. It's also all part of the evaluation process."
Stefanski confirmed that QB Case Keenum will start at quarterback after he announced Wednesday that Baker Mayfield would not play. Kyle Lauletta is also expected to relieve Keenum at the position at some point in the game.
"I know (Keenum) has played a ton in his career, but he didn't play much last year," Stefanski said. "I think it's important for him to get back out there and perform under the lights, so to speak. When he's done, Kyle will come in."
All healthy rookies, including first-rounder CB Greg Newsome II and second-rounder LB Jeremiah Owusu-Koramoah, are expected to play and make their Browns debuts. CB Greedy Williams and OT Chris Hubbard, two players who recovered from season-ending injuries last season, are also expected to play.
"They will play, but with everybody, we have a plan to be smart about it," Stefanski said. "The plan is for them to play."
On special teams, the Browns will rotate their two kickers, Cody Parkey and Chase McLaughlin, on all kicking attempts.
"(Special teams coordinator) Mike Priefer has done this before and it makes sense to do it that way," Stefanski said, "because if you do it by game, you don't know the opportunities one guy is going to get the next guy."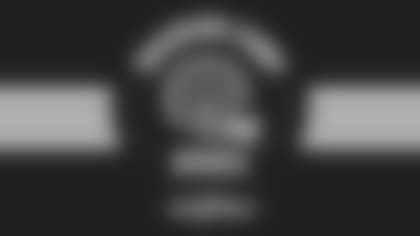 Browns move Thursday's practice up to 1:30 p.m.
Aug. 12 (12:18 p.m.) - In order to accommodate fans, and due to continued scattered weather patterns, the Browns have moved up Thursday's practice time from 2:25 p.m. to 1:30 p.m. However, If lightning is detected in the area, at any time, the team will move inside to practice, and fans must exit CrossCountry Mortgage Campus in the best interest of everyone's safety.
Fans are encouraged to dress accordingly for any possible inclement weather.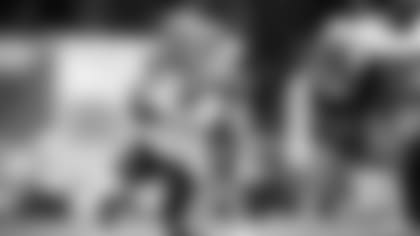 Kevin Stefanski says QB Baker Mayfield will not play in 1st preseason game
Aug. 11 (2:20 p.m.) - Kevin Stefanski announced Wednesday that quarterback Baker Mayfield will not play in the Browns' first preseason game Saturday against the Jacksonville Jaguars.
"Baker is not going to play in this game," he said Wednesday before the Browns' 12th practice of training camp.
Stefanski said he would provide an updated rundown of who was and wasn't scheduled to play Saturday in the team's first preseason game since 2019.
Kickoff is set Saturday for 7 p.m. and the game can be seen on News 5 (Cleveland market) and NFL Network (outside of Cleveland market).
Browns close Wednesday's practice to the public, will practice inside due to inclement weather
Aug. 11 (1:05 p.m.) - Browns close Wednesday's practice to the public, will practice inside due to inclement weather
The Browns announced Wednesday that their 12th Training Camp practice at CrossCountry Mortgage Campus will be closed to the public and moved inside due to inclement weather. Practice is set to start at 2:25 p.m. and will be held inside the fieldhouse.
Fans who held tickets to watch the practice can await further information from the Browns.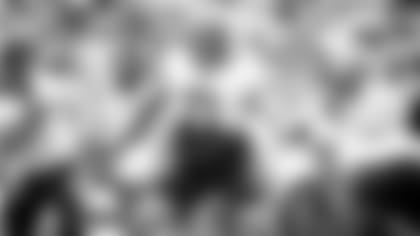 Bill Callahan has seen 'a lot of improvement' from Jedrick Wills Jr.
Aug. 11 (2:03 p.m.) - Bill Callahan has been impressed with the work ethic of Jedrick Wills Jr. since the first round of the 2020 NFL Draft, when the Browns selected Wills 10th overall to cement their left tackle position.
The tricky part of the pick, however, was the transition Wills needed to make from right tackle to left. Wills only played right tackle as a college standout at Alabama, and the transition was even more difficult to accomplish last season, when COVID-19 forced the entire league to conduct their offseason processes virtually.
Now, Callahan has completed plenty of in-person work with Wills and believes he's ready to make a massive leap in Year 2.
"Jedrick's made a lot of improvement in his game," Callahan said Wednesday before the Browns' 12th practice of Training Camp. "I don't think it's close relative to where he was a year ago. He's taken advantage of the learning processes he went through a year ago, and he's trying to accelerate his growth in a lot of different areas."
One of the scenarios accelerating Wills' growth is by practicing against Myles Garrett and Jadeveon Clowney, two Pro Bowl defensive ends and first overall picks who have joined forces in Cleveland. Even the best linemen in football have had trouble defending both of those players — just ask All-Pro RT Jack Conklin — and those are the two players Wills will face the most in his ramp-up to the regular season.
"I think he's seen some different speed and some different moves compared to what he saw last year in training camp, which is challenging his progress, somewhat" Callahan said. "I'm pleased, but we're always working. We're always trying to improve the aspects of his game. Overall, a lot of good improvement from his technique to his hands."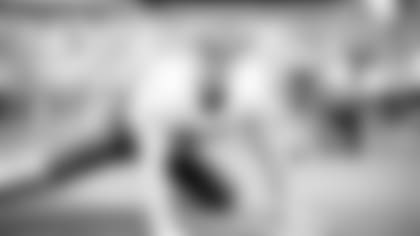 Harrison Bryant says he gained 13 pounds, feels 'bigger, faster, stronger'
Aug. 10 (4:30 p.m.) - Harrison Bryant will never forget the first time he lined up against Brandon Graham, defensive end for the Eagles and JJ Watt, the former Texans and current Cardinals defensive end, last season as a rookie.
Bryant weighed around 230 pounds and paled in comparison to the muscular and talented ends. He felt a bit overmatched as soon as he left the huddle, and he won't forget the nerves he felt at the thought of letting either of the defenders past him and into the backfield.
"Those are two plays where I was just like, 'Oh wow, this dude is very large,'" he said Tuesday before the Browns' 11th practice of training camp.
Those moments were part of the reason why Bryant, a second-year tight end who caught 24 passes for three touchdowns last season, decided to gain 13 pounds this offseason, pushing his weight up to 245 pounds. He's felt the benefits of a heavier body so far in camp and believes it'll help him be even more prepared for big defenders in the future.
"(It helps with) just being able to re-anchor and hang on," he said. "No matter what your weight is against some of these guys as a tight end, you are outmatched. I wouldn't say all of the time, but in a lot of instances. I think for everyone in the tight end room, it's always a goal to get bigger and stronger to help us out on every play."
The weight, as Bryant hinted at, can only do so much to truly help. Yes, blocking can be a bit easier with a heavier weight, but technique is even more important to truly maximize abilities.
Bryant is focusing on that, too, now that he's in a better, heavier shape to block.
"If you don't have technique and know where you're supposed to go, it doesn't really help you, so that's the thing I'm trying to focus on, just technique in the run game," Bryant said.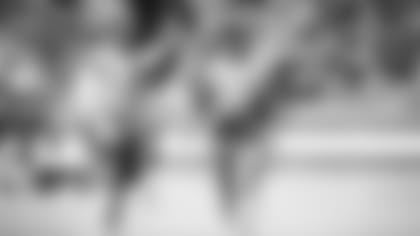 Stefanski plans to have multiple coaches calling offensive plays throughout preseason
Kevin Stefanski won't be the only coach on the sidelines delivering play calls to Browns quarterbacks this preseason.
Stefanski revealed Tuesday that he plans to assign play-calling duties to multiple coaches at certain points of the preseason and give them opportunities to expand their coaching abilities. He and offensive coordinator Alex Van Pelt, who has called plays for the offense in training camp, will carry most of the responsibilities, but Stefanski plans on passing the headset around to other coaches and offering them a chance to handle the big role in the preseason.
"Alex will call some of it, and I might have some of the other coaches call it, too, and give them some plays," he said before the Browns' 11th training camp practice. "I think that's an important part of development as well. We're working through all that right now."
Stefanski recalled the nerves he felt for the first time he needed to call plays. The setting, however, was in the regular season and contained much higher stakes. He admitted that he wished he had prior preseason experience before jumping right into the regular season, but he believes any good coach will be able to handle the role no matter the setting.
"I was very nervous," he said. "Respectfully, I don't think it's that big of a deal, and I just think it's good for us to get reps in."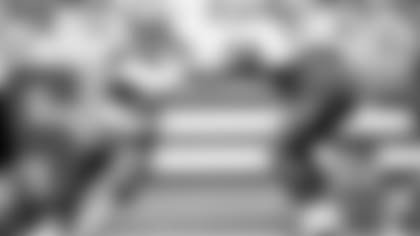 Myles Garrett day to day with hamstring; Anthony Walker set to return
All-Pro DE Myles Garrett won't practice Tuesday and is considered day to day with a hamstring injury.
Browns coach Kevin Stefanski said the injury wasn't serious and the team was being smart and careful with Garrett and a number of other players dealing with injuries. Among them is CB Denzel Ward (soreness), who will also miss Tuesday's practice and did not participate in the team's previous two practices.
LB Anthony Walker (knee) will be back on the practice field after missing the past week.