INDIANAPOLIS — This time last year, the Browns began zeroing in on Myles Garrett, whose size, speed and explosiveness made him, in Cleveland's eyes, the best player in the 2017 NFL Draft. A few months later, the Browns selected the edge rusher from Texas A&M with the first overall pick.
It'll take a similarly "special" player this year for Cleveland to prolong what's been an elusive search for its franchise quarterback.
"If there's another player like that and we think he's better than the quarterback position, then we'll have to consider that," coach Hue Jackson said Wednesday morning at the league's annual scouting combine, "but I think there are some fine quarterbacks in this year's draft. There are four or five guys that everybody's talking about, and we're going to sort through that and see what's best."
Indeed, this year's class of signal-callers — which includes highly-touted prospects such as USC's Sam Darnold, UCLA's Josh Rosen, Oklahoma's Baker Mayfield, Louisville's Lamar Jackson and Wyoming's Josh Allen — has been described as one of the best in recent years. And armed with the first and fourth-overall picks, the Browns are positioned to put an end to years of instability at the position.
That process continues in Indianapolis as Jackson, general manager John Dorsey and the team's new-look front office hope to identity their quarterback of the future. Browns owner Jimmy Haslam made as much clear in December, as rookie DeShone Kizer and the Browns' other young quarterbacks struggled mightily throughout the team's first-ever winless season.
"I've seen them all, but obviously, this is another opportunity starting now at the combine to get a chance to talk to them, to get a feel for them a little bit more," Jackson said. "I think it's too early in the process to really talk about where they are, where they rank or anything like that, but I think, obviously, this is really the start of it."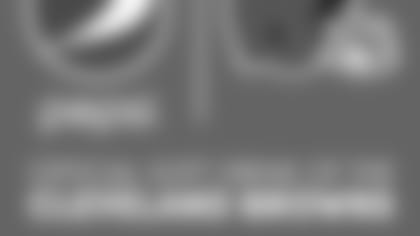 ](https://www.pepsi.com/en-us/)
The Browns will also get a good look at top-ranked prospects such as Penn State running back Saquon Barkley, North Carolina State edge rusher Bradley Chubb, Alabama defensive back Minkah Fitzpatrick and Notre Dame guard Quenton Nelson.
Asked specifically about Barkley, who is considered by some to be the best overall player in the draft, Jackson said Cleveland will do its due diligence with every player.
"I think it still goes back to our process and what we think is best for our football team, where the player fits and what our needs are. I think that is part of it," he said. "Obviously, he's a tremendous football player. He's had a tremendous career. Again, just like him and every player that is here that we feel is worthy of that early pick, we are going to dive into him and dig into him and make sure that we understand him as well as we can, and how do they fit to help us win here at the Cleveland Browns."
In any case, the Browns are poised to add at least two impact players in the first round. And their eyes, of course, will remain trained on the quarterbacks.
"I think it is going to be a collaborative effort by us all. Through the personnel department with John, through the coaching staff," he said, adding, "at the end of the day, I'm sure John and I will sit down and put our heads together on what is best for our organization."