In 2015, Chris Kirksey wants to start all 16 games at linebacker, make more game-changing plays and be a better teammate by helping newcomers Hayes Pullard and Rodman Noel adjust to life in the NFL.
These aren't cocky musings from the second-year player from Iowa. These are realistic expectations for Kirksey.
During his rookie campaign in 2014, Kirksey was on the field more than he was not, covering athletic tight ends and chasing down running backs from sideline to sideline. His 81 tackles were fourth on the Browns.
But 81 tackles weren't enough. Seven wins last season weren't enough. The humble Kirksey is quick to point out he was sometimes misaligned before the snap, or didn't know where his help was coming from on certain running plays.
"I still have a lot of proving to do," Kirksey said after his first OTA practice Tuesday. 
The gravity of responsibility Cleveland handed its third-round pick didn't hit Kirksey until veteran Karlos Dansby injured his knee Nov. 16 against the Texans.
"It was time for me to grow up on the field," Kirksey said.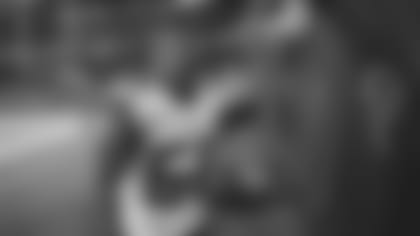 Kirksey teamed up with Craig Robertson in the middle, and the drop-off with Dansby cheering from the sidelines wasn't striking. Kirksey delivered two, clutch third-down tackles against the Falcons, no doubt helping Cleveland escape with a last-second victory in Atlanta. Kirksey earned trust not just from Cleveland's coaching staff, but also talent evaluators around the league.
Coach Mike Pettine often uses Kirksey as an example to the incoming rookies. The linebacker not only takes the football part seriously but also understands the secondary parts of what it means to be a Cleveland Brown. Kirksey regularly volunteers through the #give10 program in the community, focusing on events with youth, and frequently attends Indians and Cavs games. He was one of nine players selected to model the Browns' new uniforms at April's Uniform Reveal. 
The head-spinning moments of confusion that all rookies go through were minimal for Kirksey.  It's why he and the Browns aren't putting a ceiling on his potential.
"Definitely from Year 1 to Year 2, you know what to expect," Kirksey said. "Your mind isn't wandering everywhere. You're still getting better but, at the same time, you are more confident. That's the biggest jump – you know what you are doing now."
There's no telling how big of a jump Kirksey can make with an already solid year under his belt.