Given the daunting task of opening the season with the Ravens and Bengals, two perennial playoff teams, the Raiders are feeling pretty good about themselves sitting at 1-1.
We watched both of their games on NFL Game Pass. Here's what stood out.
It's too early to call this offense dynamic, but it will continue to trend that way with Derek Carr taking nearly 70 percent of the snaps out of the shotgun. Offensive coordinator Bill Musgrave has handed the 24-year-old quarterback the keys to the offense, and the Raiders are letting him sling it all over the field. So far, it's working.
Carr became the first Raiders quarterback to throw for 350 yards and three touchdowns in back-to-back games since Rich Gannon in 2002.
Oakland's pass/run ratio is staggering so far in 2015: 17.5 running plays per game compared to 44.5 passes. Only the Patriots and Texans have thrown the ball more than Oakland.
Rookie wide receiver Amari Cooper is as dangerous as they come. A 68-yard touchdown burst last week put Baltimore behind the 8-ball early in the game. Long touchdowns were Cooper's forte in college at Alabama. He changes everything offensively for Oakland.
A change of scenery has worked wonders early in the year for wide receiver Michael Crabtree. His 14 catches for 148 yards and one touchdown have other teams around the league regretting not giving him a chance in free agency.
Oakland is a quick-strike offense, posting touchdown drives of five and six plays to begin the game against the Ravens.
Running back Latavius Murray has 26 carries for 109 yards in two games. Oakland tends to faze him out in the second half, but he has an outside running style that could give Cleveland trouble.
The Raiders have only allowed three sacks in two games.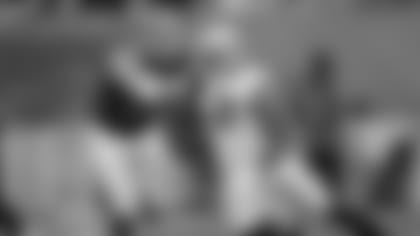 It hasn't been a banner start to the year for Oakland defensive coordinator Ken Norton and his unit. The team ranks 32nd in total defense and has surrendered 33 or more points in consecutive games.
The Raiders have been better at stopping the run (118 yards ypg) compared to the pass (327 ypg).
Playing in a mostly traditional 4-3 defense, Khalil Mack remains a menacing force at outside linebacker – even though Oakland has yet to register a single sack in 2015. The Raiders have been mostly scheming him up against right tackles, where he puts his hand in the dirt and has been a stalwart in stopping the run. Cleveland likely will have to scheme a tight end to chip Mack. Containing him will be a necessary part of the game plan.
After four years as a backup with the Seahawks, outside linebacker Malcolm Smith is shining with his new team and leading the Raiders with 19 tackles.
Despite having athletes at cornerback, it's been a position opposing teams have attacked. Starters TJ Carrie and DJ Hayden are in their respective second and third years in the NFL – and there have been bumps in the road for the pair.