As Browns fans wrap their heads around Cleveland's 27-20 loss to the Oakland Raiders, the quarterbacking play of Josh McCown understandably will be a widespread topic of conversation.
On the surface, the 36-year-old threw for 341 passing yards, two touchdowns and put 20 points on the scoreboard in his home debut – usually enough for the Browns defense to bring home a win. And when the clock was winding down in the fourth quarter, McCown and the Browns were within striking distance of an unbelievable comeback, rallying from a 20-3, third-quarter deficit.
But statistics aside, Cleveland's offense sputtered for large chunks of the game, especially early, and a number of McCown's throws were inaccurate. Cleveland didn't cross midfield until 5:19 remained in the first half. McCown's 49 pass attempts also marked a career high, a byproduct of falling behind by multiple touchdowns and rushing for just 39 yards. The Browns will be the first to tell you they don't want their quarterback throwing 49 times in a game.
"It was just too messy all day for us," McCown said.
The slow start from the offense didn't help the Browns' defense, which also struggled out of the gate. Defensive coordinator Jim O'Neil's unit was engulfed for 314 yards through the air and 155 on the ground.
"The way that they started, we needed to answer and respond, and offensively, we didn't do that," McCown said.
"I don't know if I would say rusty," coach Mike Pettine said, "but Josh will be the first to tell you there are some throws he made and some he'll want to have back."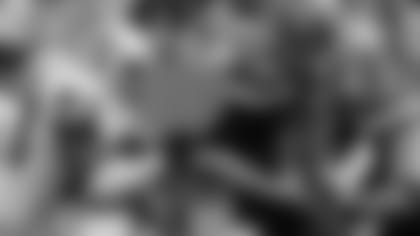 The throw that will linger in McCown's mind was his last heave of the game. With 43 seconds remaining, Cleveland was knocking on the door. After starting from the 2-yard line, the end zone was just 35 short yards away. What might have been considered a far-fetched comeback to many was about to send FirstEnergy Stadium into a frenzy.
With four receivers split to his left and right, McCown took the snap from the shotgun and surveyed the field: Oakland was in a Cover 2 look, meaning there would be space underneath to make a play.
But McCown saw an opening to go for the kill shot.
Using his eyes to lure the defense to the left, McCown was actually thinking about hitting wide receiver Travis Benjamin down the right sideline the whole time. But as Cleveland's quarterback launched the pass, safety Charles Woodson broke on the ball and soared for the game-sealing interception.
"The play, based on the coverage, we thought we could get a chunk to Gary (Barnidge)," Pettine said. "I think Josh knew there would be a potential window in Cover 2. Credit Woodson, that was a heck of play, but you have to throw that ball a little bit earlier or get it in the middle of the field to Gary."
"I just didn't put enough air on it," McCown said. "I didn't throw it the way I wanted to throw."
McCown was admittedly off on some of deep throws, but when the Browns' offense was clicking, big passing plays were what motored the team down the field. A 40-yard strike to Barnidge and a 41-yarder to Brian Hartline both led to points.
"I was proud of not just him, but how we hung in there offensively and got us back to within a score and a chance to tie it at the end," Pettine said.
Pettine was adamant there will not be a short leash for McCown as the Browns' starting quarterback. Cleveland will prepare all week for the San Diego Chargers (1-2), who were walloped by the Minnesota Vikings, 31-14, on Sunday. The Browns coaching staff undoubtedly feels like McCown gives this team the best chance to win every Sunday.
"For me, I have to just focus on where we are and what we're doing," McCown said. "We had our own problems and our own issues just trying to move the ball and so that's really where my focus is."
"We want our quarterback to play well?" said Pettine. "We have to play better around him."