In eight active seasons with the Green Bay Packers, Tramon Williams missed the playoffs only once.
And even though the Cleveland Browns' postseason drought has reached its 12th season, the cornerback isn't booking any tropical vacations for the month of January.
After merely two days of conditioning, lengthy meetings with the defensive coaching staff and chit-chatting with members of his secondary, Williams doesn't just think the seeds have been planted for Cleveland; he sees key components of winning already starting to bloom.
"This is a playoff-caliber team," Williams said with conviction Tuesday. "The feeling that I get in the building is that everyone believes."
If there's anybody who knows what a playoff team looks like, it's Williams.
A defensive back with a penchant for taking the right risks, Williams picked off three passes during Green Bay's improbable 2010 playoff run, capping a Wild Card berth with a Super Bowl win over the Steelers. In total, Williams has played in 13 playoff contests.
A self-described "film junkie," Williams is obsessed with football -- a characteristic coach Mike Pettine and general manager Ray Farmer  said is a priority when they sign a free agent -- and not just from September to January. Every year before OTAs begin, Williams pops in tape of the best cornerbacks in the league in hopes of borrowing some new techniques for the upcoming season.
For the last several years, a regular character in Williams' film rotation has been Mr. Cleveland himself: Browns Pro Bowl cornerback Joe Haden.
"I like Joe's game," Williams said, strongly emphasizing the syllables in like. "It's kind of similar to mine. That was another opportunity (that made me want) to come in and to play with a guy like that. He plays very, very hard."
Haden, now entering his sixth season with the Browns, was not shy in admitting it stung to watch his former partner in crime Buster Skrine sign a lucrative offer from the New York Jets. He was happy for his buddy Skrine, but Cleveland was losing a hard-working, well-respected, productive player.
The pain quickly subsided when the Browns announced days later they'd struck a deal with Williams.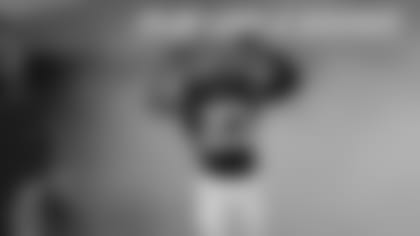 "I can just tell from the beginning that he's a true professional. He does everything the right way," Haden said of Williams. "He's got a wife and two kids. We were just hollering at each other earlier about his family that's still in Houston.
"He knows the game. We are in there going over the playbook and this isn't his scheme at all – but he just gets it. He's got everything down pat. I can tell he's a quick learner. He's a pro's pro. He's going to fit into the room really well."
It was a tad strange for Williams to see his locker full of orange and brown gear instead of the green and gold. He knows the NFL is a business and changing uniforms is something nearly every player experiences.
It was enthralling for Farmer and Pettine to see Williams and his long dreadlocks in the building during the voluntary portion of offseason workouts. The power pair knows the NFL is a business and getting the right veteran players to change uniforms like Karlos Dansby and Donte Whitner can lead to more wins.
So far, Williams' uplifting attitude and confidence about winning make him seem like he is that right guy. 
"I came in and made myself known to the guys. They took me in with open arms," Williams said. "That's just how the chips fall. Guys have been good to me so far, the coaches have been great. I'm liking what I'm hearing from those guys. Hopefully we can get the ball rolling."