When Karlos Dansby was asked to play general manager during a December teleconference, he delivered a brief answer that probably surprised a few people.
The veteran linebacker has won more than he's lost in his 11 and counting seasons and he's starred in the center of a number of productive defenses. So when he was asked for his take on what the Browns needed to do to take their defense to another level in 2015, the assumption was that he'd offer an array of ideas.
Instead, the oft-quoted Dansby kept it simple.
"Nothing," Dansby said. "We just need another year in this defense."
The nature of the NFL, of course, makes that close to impossible. Players come and go every year on every team, and the Browns defense experienced it a few days into free agency when starting cornerback Buster Skrine signed with the New York Jets and linebacker Jabaal Sheard signed with the New England Patriots.
On Monday, both had their spots on the defensive side of the ball filled by veterans who have landed in the Pro Bowl at least once. Though the departure of Sheard has yet to be reflected in a Browns free agent acquisition, the signings of cornerback Tramon Williams and defensive lineman Randy Starks re-emphasize the philosophy coach Mike Pettine laid out in an interview with ClevelandBrowns.com last month at the NFL Combine.
"It will start on defense," Pettine said. "That we can get the front shored up and get the questions answered with the run game, and then I feel we'll be in a real good place there.
"If we're playing to the level we showed flashes of last year, we'll be in every game."
The secondary, in particular, has the pieces in place to potentially replicate, if not surpass, all that was accomplished in 2014 thanks to the addition of Williams. Williams, who piled up 28 interceptions and 115 passes defensed during his eight seasons with the Green Bay Packers, fills the void left by Skrine, who had the best season of his career in 2014. With the exception of veteran safety Jim Leonhard, who has said he will retire, everyone else in the secondary is back and healthy after a season that saw three of its players land in the 2015 Pro Bowl, led the league in opponents' quarterback passer rating (74.1), completion percentage (57.1) and passes defensed (99) and finished second with 21 interceptions.
Williams identified fellow cornerback Joe Haden and safeties Tashaun Gipson and Donte Whitner individually when he explained why joining the Browns was so alluring. Beyond the starters, though, are a few more reasons for optimism with three second-year players. K'Waun Williams emerged as the Browns' go-to option at nickel while fellow rookies Justin Gilbert and Pierre Desir can provide competition behind and with Haden and Tramon Williams.
"I see where these guys are going and I think I can help them go to where they want to go," Williams said. "They had a great defense last year with a lot of young guys on the team. I'm a veteran guy and I hope I can take them to another level."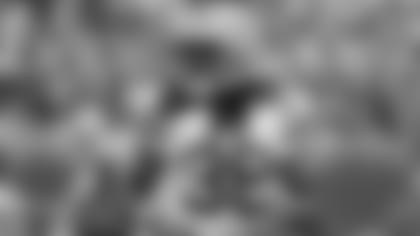 Starks brings the same sort of veteran savvy to a Browns defensive line that is bent on improving from last year's performance. Injuries battered the unit from the beginning, as John Hughes, Phil Taylor and Armonty Bryant all missed significant amounts of time while Billy Winn and Desmond Bryant played through a myriad of painful injuries. The results followed suit, as the Browns ranked last in the NFL in run defense and were near the bottom in sacks and overall pressure on quarterbacks.
The steps toward remedying those totals started Friday with Hughes' contract extension, continued Monday with the arrival of Starks and will extend to the 2015 NFL Draft, where the Browns have 10 picks, including two in the first round. Bryant, Taylor and Hughes are poised to be back at full strength and ready for a fresh start at training camp.
"I feel like not just me, but the team has a lot to prove," Hughes said. "I feel like we have a lot to do."
It will be a fresh start with a whole bunch of familiar faces -- just how general manager Dansby drew it up.