Mike Pettine strolled up to the podium on the eve of his second training with Browns, and he said something that may have appeared minor, but in reality, it will become the backbone for Cleveland football in 2015.
"Words into action," the 48-year-old head coach said to a throng of reporters on a steamy day in Berea.
Coming from the guy who successfully implemented the mentality Play Like a Brown in year one, "words into action" shouldn't be dismissed as a catchphrase. Pettine means business.
The Browns will have the best secondary in the league.
Cleveland's new explosive identity on offense will catch teams off guard.
The Browns can end a 13-season playoff drought and reach the postseason.
Whether those words are external, or even internally laid out by the coaching staff as goals, turn them into action on the football field. And getting veteran leaders to emphasize the message in harmony, just like they did with Play Like a Brown, is a strength Pettine has channeled early in his head coaching career.
"We were leading Baltimore going into both fourth quarters, up here and there," Pro Bowl safety Donte Whitner said. "We don't think that there is that big of a difference between first and fourth place in the division. Teams are built similarly. Everybody has a pretty good defense, so it is going to be the team that really wants the division that goes out there and takes it.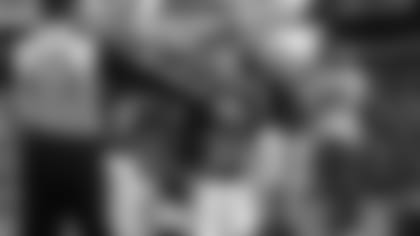 "We have had our wins and taken our lumps, but it was our first time together. We went out there and accomplished some of those things. Just building on the things that we did last year, some of the late leads we let slip, we are really confident in what we can do."
Said Pettine: "I think so much of the NFL is every team is capable but who can do it consistently and who can do it the longest. And I think that is where we have to take that next step this year."
The dialogue at the Browns' first team meeting Wednesday night will revolve around exactly this. The football season is going to get noisy and it's going to get intense. It's the franchises that can stick to their plan, and plug in backup players on the fly that find themselves playing football in late January.
Sure, the question marks are there. Josh McCown will have to prove it at quarterback. The run defense will take time to gel together. The Browns will play one of the more challenging road schedules in the league.
But all of that is talk. None of that is action on the field. Pettine knows Cleveland can improve – and prove it to those outsiders who aren't yet convinced.
"There's no reason to think that we can't be in that conversation at the end of the year," Pettine said.
Year 1 for Pettine was about establishment – of a new no-nonsense culture, of a shift in X's and O's philosophy that relies on dominant offensive line and secondary play, of reminding his players how fun the game of football really is.
Year 2 for Pettine will be about climbing the ladder – with more veteran reinforcements who have won in the NFL, a stronger defense that can be as nasty as his Jets teams and more prowess as a head coach and vision he can turn into reality.