Name: Melvin Smith and Michael Lamparyk
Hometown:Cleveland, Ohio
How they give back:Melvin helps organize and coach the youth wrestling program. While doing so he can #give10, feel good about himself and help kids get active for at least 60 minutes a day and grow strong. Teaching them the basics of the sport is a great way that he can pass along his knowledge to the next generation. Michael is used to giving the homeless clothes and food throughout the night. He knows how fortunate he is and he is more than happy to #give10, give what he can to help his community. He loves being able to go into the shelters and help them whenever he can.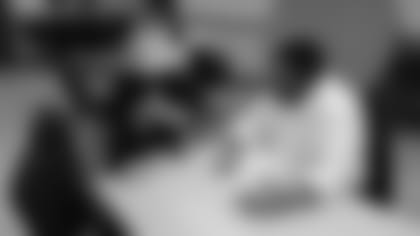 Name: Menachem Ickovitz  
Hometown: Monsey, NY
How they give back:He is a Browns Backer who has recently begun teaching and mentoring kids in his area. On his own he has started to #give10 and focus on youth development. Practicing fundamental language skills he is able to give back by helping students learn and grow. He is not just teaching English, but actually Jewish subject matter. He loves doing it because it makes him feel kind of like a 'big brother' of sorts. He can mentor and support the kids in his community.
Name: Carol Polley and Coletta West
Hometown: Cleveland, OH
How they give back:Carol is very active in her community. Doing to others as she would want done to herself. The golden rule or words, which she can live by. It's amazing all that she can do to #give10 and serve others. She is most happy when she can volunteer at her church and help her community in that way. Coletta has also been able to volunteer in her neighborhood working with people to improve their lives. She assists the elderly in her condominium building. Escorting them around, and being of help in any way they may need or request.
Name: John Selick
Hometown: Cleveland, OH
How he gives back:Each year the Cleveland Browns combat hunger in Northeast Ohio by providing meals to families in need. One donation or effort to #give10 can truly make a difference in the community. John assists with the Greater Cleveland Foodbank throughout the year and then at the event he helps by cooking at the Taste of the Browns Cleveland Food Bank fundraiser! It's an awesome way to #give10, help the community and provide food for those in more than six counties.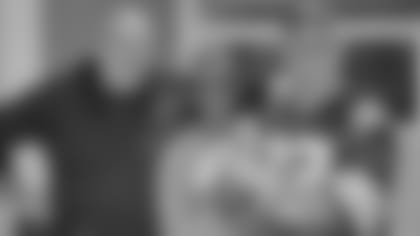 Name: Scott Slusarczyk  
Hometown: Hampton, VA
How they give back:Scott is a Browns Backer who has been known to #give10, give back in so many ways. He and another Backer spent time with local Fire Fighters and EMT's recently. They took pizzas to the Firehouse and thanked them for their services and got to know them better including what they do in a normal day. They also visited the Natasha house and taught a gardening class to the people living at the transitional house. Lastly they collected money for the local SPCA no kill shelter and presented the operational manager and staff with $250. This money helped purchase much needed shots and food for the animals.
Are you signed up to #give10? Share how you are helping the community and pledge to be part of First and Ten on ClevelandBrowns.com/community. All you have to do is give 10 hours, help your community. We want to hear your stories so follow @BrownsGiveBack on Twitter and Instagram for the latest community updates and be sure to use #give10.