Many have answered the call to serve in the community during the COVID-19 pandemic. The Browns have joined in on this calling and taken immediate action by completing a two-part service project.
Browns team seamstress Becky Zielinski has led this service effort in collaboration with Mask Making Miracles, who are a local group of volunteer sewers who wanted to help during this crisis. Together, Becky and Mask Making Miracles have helped produce 2,678 masks. Browns staff also provided support from their homes by cutting fabric for the Mask Making Miracles group. The masks were recently donated to University Hospitals (UH) medical professionals. UH is currently collecting masks from several community groups and after collecting 100,000 masks they will donate all remaining masks to local nursing homes and others in need.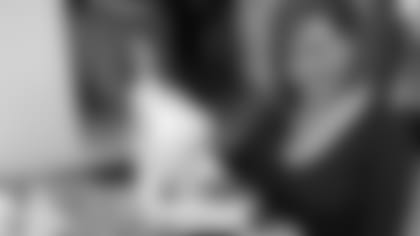 The second component of this service project consisted of Browns staff creating personalized Notes of Gratitude for frontline medical professionals. "I can't imagine being in their shoes. It was the least I could do to spread some love," said Rich Hanchette, Browns Motion Graphic Artist. The Browns are also encouraging fans to give back in the community in similar ways.
Fans who have already been volunteering or are wanting to get started are encouraged to join the Browns' First and Ten movement. The First and Ten movement was designed for individuals in the community to make a difference through volunteerism. Any fan can participate in the First and Ten movement by pledging to #give10 here: https://www.clevelandbrowns.com/community/first-ten/take-pledge
Fans who pledge and hashtag "#give10" when they are volunteering can be featured in the Browns' monthly First and Ten Highlights stories!