Name: Louise Balog
Hometown: Rock Creek, OH
How they give back: Louise has been tutoring at a school in Fairport Harbor for more than 12 years. She used to #give10 and volunteer at the school during her lunch break as often as she could. Now that she has retired she has more time and can volunteer at least twice a week. Louise is also president of the Fairport Harbor Academic Boosters Club where she advises and fundraises with a great group of people that we hope will take the First and Ten Pledge just like Louise for all of the great work they accomplish for the students at the school.
Name: James Hudson
Hometown: Oakwood Village, OH
How they give back: James has always had a passion for youth and loves to focus his efforts on youth development. He has prioritized working with at risk youth and has been doing so for a while now. He prides himself on making conversation with the students and creating real relationships of substance and value that can improve their livelihoods. James just wants to help the kids make the right decisions while donating his time for activities so they can experience things that they would not be able to afford or not have the means to do so.
Name: John Saunders
Hometown: Cleveland, OH
How they give back: John, who goes by June Bug to the people who know him best for his philanthropic acts, is so committed to his community. He has been on the ball and chose to #give10 without any prompting. He saw a need and filled it to the best of his ability. He has been cutting hair for homeless people for a while now because he believes they deserve to have a nice, freshly cut head of hair as well. He always wants to help in any way possible. John knows that by doing this uplifts their spirits and motivates them to get up and do something productive.
Name: Julie Lochtefeld
Hometown: New Bremen, OH
How they give back: Julie has been served as a volunteer coach for a 5th and 6th grade girls' basketball team for the past nine years. She teaches them the importance of teamwork and the lessons of the game. She believes that the reward at the end of the season is not how many wins, but watching the girls mature into basketball players. Julie says the sheer feeling of how she can #give10 brings her joy. No pay can amount to the happiness she sees in the kids' eyes when they make their first basket or dribble down the court without losing the ball. She sees it as an honor and a privilege to be able to influence young girls to be the best they can be.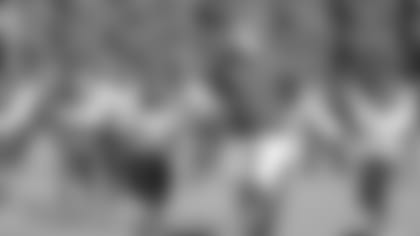 Name: Alex Syrianoudis
Hometown: Cleveland, OH
How they give back: Alex spent the better part of the year, from July until November volunteering through youth sports to #give10. He spent at least 10 hours a week coaching youth football in his home town. It was very time consuming but he wouldn't trade it for the world. Deep, down inside he knows that he truly impacted players' lives, but they impacted his so much more. He will continue to coach as many years as he possibly can because it is something he absolutely loves to do.
Are you signed up to #give10? Share how you are helping the community and pledge to be part of First and Ten on ClevelandBrowns.com/community. All you have to do is give 10 hours, help your community. We want to hear your stories so follow @BrownsGiveBack on Twitter and Instagram for the latest community updates and be sure to use #give10.