The Cleveland Browns are committed to the community. Through First and Ten, the Dawg Pound is encouraged to share what they are doing to give back. Get inspired and check out what these fans are doing to help their community: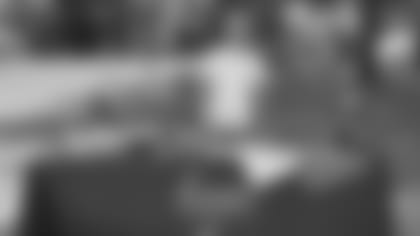 Name: Thomas Galuppo
Hometown: Union, NJ
How they give back:
Hold On, Pray Everyday (H.O.P.E) is a project that began after Tom's special needs daughter, Savannah Nicole, passed away July 1, 2016. Savannah was born in July of 2015 with complications suffering a loss of oxygen at birth affecting her brain. She finally came home after three months in the hospital but sadly, Savannah passed away just before her first birthday. She taught Tom and his family the true meaning of strength, the power of prayer, and most of all hope. After experiencing this with his daughter, he started Hold On, Pray Everyday (H.O.P.E); to spread a positive message of hope especially to those going through difficult times. They sell "Hope Hats," T-shirts, and bracelets with an anchor which is the universal symbol for hope. Every month, Hold On, Pray Every day donates a portion of their sales back to local children's specialized hospitals in honor and memory of their daughter Savannah. In addition to donating a portion of their sales from their charity each month, they also purchase presents for every child in the hospital for the holidays. After Savannah passed, Tom knew that he needed to do something positive and turn his "mess" into a "message." He knows Savannah would be proud. The Cleveland Browns thank Tom for sharing your story taking the pledge to #give10 and to spread HOPEwherever you go.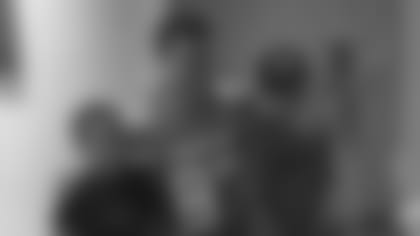 Name: Seth DeValve
Hometown: Manchester, CT
How they give back:
Entering his second season, Cleveland Browns TE Seth DeValve has made an effort to get out into the community whenever his schedule allows. It all began in high school when Seth would take mission trips to Tijuana and engage in various outreach efforts around his city. During his rookie year Seth also chose to #give10 through Tuesday visits, Browns Youth Football Camp, supporting local youth from Cleveland Metropolitan School District and OhioGuidestone. During the offseason Seth went to the Waverly school as a part of the Get2School campaign to share the importance of education and getting to school so that students have the best opportunity to learn and graduate high school so they can accomplish their dreams. Recently he visited University Hospitals to visit with children who are undergoing treatment and their families. Thanks for choosing to volunteer, share your time and #give10 to help your community Seth!
Name: Donna Moamis
Hometown: Girard, Ohio
How they give back:
Donna is a Browns Backer and has recently taken the pledge to #give10. Before Donna even took the pledge, she has given back to the community regularly. One of her most notable causes includes volunteering with the Epilepsy Foundation. Donna and the rest of her family are part of Team David (In honor of her son who battles with epilepsy.) They also do charity work and fundraisers to hopefully find a cure for epilepsy. In the upcoming month, Donna and Team David will be helping out with the "Lemonade for Livy event." This event is going to have a ton of volunteers that will help and #give10 to spread awareness and find a cure for epilepsy.
Name: Katie Brown
Hometown: Maysville, OH
How they give back:
Katie has recently taken the pledge and is currently trying to recruit new members. Katie is the head volleyball coach at Maysville high school. Along with the football team, Katie and her girls helped build a house for a family in need in just one weekend to #give10 to their community. She helps at the Salvation Army during Christmas time and with Helping Hands at her local church. Katie loves to stay involved in her community and is looking to link her girls up with the "Big Brothers Big Sisters" program so they can begin to give back and to spread the goodwill.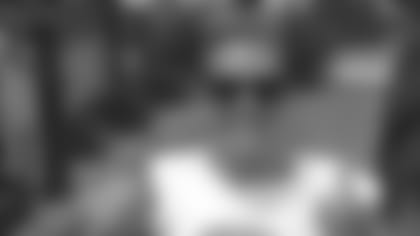 Name: Kelly Carroll 
Hometown: Kalamazoo, MI
How they give back:
Kelly has been with the Browns for seven seasons now and has been volunteering with the team even before the First and Ten pledge existed. Kelly initially got involved with volunteering when she used to receive volunteering opportunities from the community relations department with the Browns. Once Kelly started to volunteer she was officially hooked into the giving environment. One of the main reason why Kelly continues to volunteer is because she is not originally from Cleveland and feels that volunteering and giving back gets her closer to both the community and the city of Cleveland. In addition to helping out with the Browns, Kelly also volunteers to #give10 with the United Way's Young Leadership Program, and Providence House. The Cleveland Browns thank you for taking the time to #give10 and continue to volunteer within your community.
Follow @BrownsGiveBack on Twitter and Instagram and tell us what you are doing to help others using #give10 to unite us all as Browns fans. Give 10 hours, help your community.
The Browns are dedicated to #give10 through the team's First and Ten initiative. Launched in June 2014, the Cleveland Browns First and Ten campaign is the team's community program, established to inspire fans to volunteer in and help their communities throughout the world by volunteering for 10 hours each year. Since its inception, Browns fans have committed to volunteering more than 1 million hours to impact their communities by pledging to #give10. Through First and Ten, the Browns are the only NFL club to promote a long-term volunteering program that unifies the team and its entire fan base, with the goal of impacting every individual's city across the globe, as well as the franchise's local community. All Browns fans are encouraged to join the volunteering effort by signing the First and Ten pledge on the team's website and by sharing their stories with #give10