The Cleveland Browns are committed to the community. Through First and Ten, the Dawg Pound is encouraged to share what they are doing to give back. Get inspired and check out what these fans are doing to help their community:
* How do you give back?
#give10*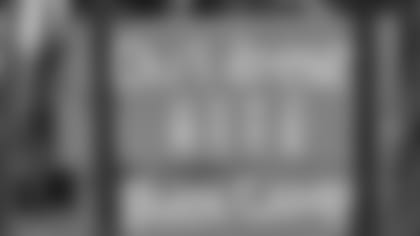 Name: Andy Stratton
Hometown: Cranford New Jersey
How they give back:
Battalion Chief Andy Stratton is a career firefighter in New Jersey, and unfortunately has seen many tragedies over the last twenty years. Sadly, many involved were children who were severely burned in fires. Midway through his career, he read an inspiring story written by the NJ State FMBA President about a special camp for children who are burn survivors. Each year the camp hosts roughly 80 kids between the ages of 8 and 18. These kids are mostly from burn units on the east coast, but there have been dozens from around the world. The theme of the camp is that for one week, these kids can just be kids, this is a week where they are taught to be proud of their survival and to learn they can do anything. The all- volunteer staff consists of firefighters, burn unit nurses, and many adult burn survivors. Andy is proud to say this is his 10th year there and plans to return for many more. He truly believes the counselors give their all, but get so much more back in return. Andy is new to the Browns fan base and has just recently taken the pledge to #give10. He now plans to spread the #give10 message back in New Jersey and continue to volunteer doing whatever and whenever he can. On behalf of the Cleveland Browns we thank you for taking the pledge and continue to #give10!
Name:  Christian Kirksey
Hometown: St. Louis, MO
How they give back:
Cleveland Browns LB Chris Kirksey has been deemed the Dawg of the Week by the Cleveland Browns CR team for all of this work and dedication to the communities in Northeast Ohio. Chris is active with Camp Courageous, which aims to foster independence and better the quality of life for children and adults with developmental disabilities through outdoor activities. He's also very active in the Cleveland community, visiting numerous schools, hospitals and youth football camps. He also hosted his very own football camp in his hometown of St. Louis, MO for local youth. They were taught valuable football skills and learned life lessons that they can carry with them forever. Chris hopes to be a role model for those coming after him and help the youth in any way that he can. Good work, continue to inspire others on and off the field.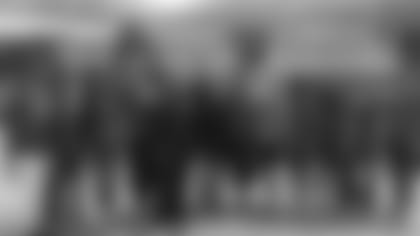 Name: Jess Brooks
Hometown: Avon Lake, Ohio
How they give back:
Jess is part of our Browns family and has been working here for a little over four years now. Along with working hard to make the Browns better, she also takes time out of her day to make her community better. Jess currently works with the PEO Philanthropy group were their main mission is to help raise money to help further women's education. Jess got involved with this about two years ago and has been following her family's footsteps. Her mother and great aunt help out alongside her with the charity. Jess has taken the pledge to #give10 and says one of the best things about volunteering is seeing and hearing their final success stories.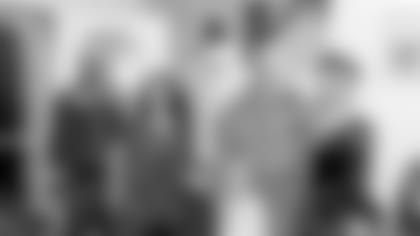 Name:  Joanne Pem
Hometown: Cuyahoga Valley, OH
How they give back:
Joanne has been volunteering with the Cuyahoga Valley Polar Express Railroad for the past three years now. During the months of November and December, Joanne or her alter ego Elf Hollie, is working at the Polar express providing the best overall experience for whomever goes on the ride. One of the many things that Joanne does is providing tickets and pajamas to families that cannot afford this great experience. Along with the polar express, Joanne has gone above and beyond her pledge to #give10. Very soon, Joanne will have hit 500 volunteer hours is not slowing down. Way to go Joanne, keep up the great work!
Name:  Caleb H.
Hometown: Louisville, OH
How they give back:
Caleb is a student at Louisville Middle School who just has a knack for being on the move and keeping busy. You can find him and his friends from around the neighborhood playing backyard ball, making up games and playing each and every day after school lets out. During the Browns Play 60 Spring Challenge at his school, Caleb was able to rack up the minutes because he participated in a couple of baseball tournaments with his team and attended practices multiple nights a week. He likes to keep moving by playing sports. He's all about Cleveland sports and baseball is his go to, but he's also into basketball and used to play football. In his community he volunteers at church by helping with the babies and little kids. Service projects and he takes his parents lead because they do that. He gets good grades, he's very active in sports and he's just an overall good kid.
Interested in signing up your volunteer group for First and Ten? Group forms available! Click here to learn more about how to #give10
Follow @BrownsGiveBack on Twitter and Instagram and tell us what you are doing to help others using #give10 to unite us all as Browns fans. Give 10 hours, help your community.
The Browns are dedicated to #give10 through the team's First and Ten initiative. Launched in June 2014, the Cleveland Browns First and Ten campaign is the team's community program, established to inspire fans to volunteer in and help their communities throughout the world by volunteering for 10 hours each year. Since its inception, Browns fans have committed to volunteering more than 1 million hours to impact their communities by pledging to #give10. Through First and Ten, the Browns are the only NFL club to promote a long-term volunteering program that unifies the team and its entire fan base, with the goal of impacting every individual's city across the globe, as well as the franchise's local community. All Browns fans are encouraged to join the volunteering effort by signing the First and Ten pledge on the team's website and by sharing their stories with #give10