*The Cleveland Browns are committed to the community. Through First and Ten, the Dawg Pound is encouraged to share what they are doing to give back. Get inspired and check out what these fans are doing to help their community:
*How do you give back?#give10
Name: Cleveland Browns Suites Department
How they give back: 
Erica V. and her colleagues made a point to go out into the community to #give10 this Spring. They wanted to do something to have some fun, but also make an impact and see a direct effect on members of the community. They decided to host a group from Cuyahoga County Board of Developmental Disabilities to go bowling. Browns staff had real one-on-one interactions and got to know the individuals better. It was a really cool event and gave them an opportunity to get out of the office to provide these fans an unforgettable experience. After an afternoon of bowling fun, they had a pizza party to finish the night off right. #give10!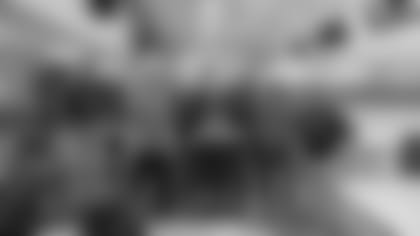 Name: Ron B.
How they give back: 
Ron, who works in player development, has always been a champion of giving back. Through First and Ten, he finds ways to help others and share his time, talent and treasure. Recently Ron had the opportunity to speak with a classroom of students at After School All Stars. He shared inspirational messaging about creating goals, keeping things at the forefront of their mind, sticking to it and being determined to accomplish it. He emphasized how important it is to be the best that he could be and encouraged the kids to do the same. #give10 hours, help your community.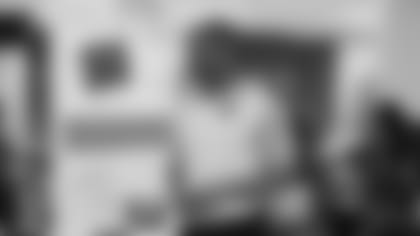 Name: Duke Johnson
How they give back: 
Cleveland Browns Running Back Duke Johnson has been extremely active in the Greater Cleveland community supporting local schools, athletics and more. He finds it paramount that he stay involved in the lives of the fans and the youth of the community in which he lives. He also gives back in other areas. Through the Duke Johnson Foundation, he is hosting his second annual 7-on-7 youth football challenge in his college town of Miami. He's always excited to connect with the younger generation, see and develop new talent. #give10
Name: Greg R.
How they give back: 
Greg, a member of the Cleveland Browns finance team, has been choosing to #give10 since the inception of the movement back in 2014. Greg is always ready to jump in and volunteer whenever the opportunity arises, whether it's with Special Olympics at the annual Play 60 football festival, building a playground for a local school, volunteering as a chaperone at his son's school events, or one of his favorite, being an Adapted Football League volunteer. As the 2017 season kicks off this Saturday, Greg is all about the program and making sure children of all abilities have the opportunity to play, hang out with their friends and enjoy the sport of football.
Name: Rachel B.
How they give back: 
Rachel began her quest to find a cure through the Susan G. Komen foundation nearly seven years ago. Each year she's put on a golf outing to raise money, awareness and support for the many in her area fighting and surviving but also nationwide. This year with the support of sponsors, golfers, and volunteers they were able to raise $24,465.00 for Susan G. Komen 3-Day for the Cure. Her team alone has raised over $355,000.00 for the Susan G. Komen 3-Day since they began the passion for a cure in 2005. The event to benefit breast cancer research for a cure occurred at Jefferson Golf & Country Club in Blacklick, Ohio. There were approximately 118 golfers, 20 volunteers, and more than 107 sponsors/donors supported the event. #give10
Follow @BrownsGiveBack on Twitter and Instagram and tell us what you are doing to help others using #give10 to unite us all as Browns fans. Give 10 hours, help your community.
The Browns are dedicated to #give10 through the team's First and Ten initiative. Launched in June 2014, the Cleveland Browns First and Ten campaign is the team's community program, established to inspire fans to volunteer in and help their communities throughout the world by volunteering for 10 hours each year. Since its inception, Browns fans have committed to volunteering more than 1 million hours to impact their communities by pledging to #give10. Through First and Ten, the Browns are the only NFL club to promote a long-term volunteering program that unifies the team and its entire fan base, with the goal of impacting every individual's city across the globe, as well as the franchise's local community. All Browns fans are encouraged to join the volunteering effort by signing the First and Ten pledge on the team's website and by sharing their stories with #give10