*The Cleveland Browns are committed to the community. Through First and Ten, the Dawg Pound is encouraged to share what they are doing to give back. Get inspired and check out what these fans are doing to help their community:
*How do you give back?#give10
Name:  Cindy P.
How they give back: 
Cindy is one of those unique people that has taken the pledge to #give10, and still has so much more to give. Cindy volunteers with the Browns Backers of Pinellas in Florida where their club was the "World Wide Club of the Year in 2014" and runners up the next two years. Cindy and the rest of the group have helped orchestrate raising money for: mammograms for women who could not afford them; animal rescue groups; homeless and hungry: donating more than 600 pounds of food for Thanksgiving; and underserved children at church: buying them gifts for Christmas. One additional charity that Cindy helps with is the Tracy Lutz fundraiser. This charity is very close to Cindy because Tracy Lutz is her cousin. Cindy and her family are determined to do whatever they can for the cause to continue to help others even during their time of need.
Name: Eli Lenington
Hometown: Marietta, Ohio
How they give back: 
Eli is fairly new to the Browns, but that hasn't stopped him from getting involved. Eli currently works in the Inside Sales department where he is constantly answering phone calls and checking emails all day long. One day back in March in the thick of all his phone calls he came across an email that opened up his eyes. The email contained information on volunteering at the longstanding Browns Play 60 Special Olympics Football Festival. The event brings Special Olympics athletes the opportunity to step outside of the classroom and enjoy a fun day of activities with their friends. There are all sorts of drills that are set up and games to play inside the Casey Coleman Field House at the Browns training facility. When Eli was asked why he decided to do it he said "It feels good to give back and I'm blessed to have a platform to be able give back to the community." In addition to the Special Olympics event Eli continues to #give10 with his local YMCA and CYO groups where he gives back to the youth in a similar way. Keep up the good work Eli!
Name: Victoria Leahy
Hometown: Mansfield, Ohio
How they give back: 
Victoria has only been at the Browns for a couple of months now, but she knows how important it is to give back. Victoria decided to take the pledge to #give10 because she wanted to be a part of all the Browns are doing to give back and help the community. Victoria has been volunteering for most of her life and has contributed countless hours of charitable work to her church, Crossroads Community Church. Along with doing work with her church she also been involved with food drives to help combat the ongoing issue of hunger in many areas, and something that's close to her heart: breast cancer walks. Victoria mentioned that she chooses to volunteer and #give10 because it's rewarding seeing the impact of how it affects the community in a positive way. Victoria says that she plans to #give10 for as long as she can.
Name:  Michal Johnston
Hometown: Twinsburg, Ohio
How they give back: 
Michal has a unique approach to the #give10 pledge. Instead of orchestrating silent auctions or food drives, Michal decided to spread charitable work through laughter. Michal is the founder of the Comedic Renegades, a charity group that performs comedy shows within Northeast Ohio communities. Michal has been doing this for a couple of years now and does not plan to stop any time soon. When asked why Michal continues to do what he does he said, "I continue to do it because there are needs within our community. Laughter brings hope, energy, and smiles to people, and it helps remind us that we can do anything with laughter." On behalf of the Cleveland Browns we thank you Michal for taking the #give10 pledge and for spreading joy and laughter throughout Northeast Ohio.
Name:  Ibraheim Campbell
Hometown: Philadelphia, PA
How they give back: 
Cleveland Browns DB Ibraheim is a community all-star. He chooses to #give10 any opportunity he gets. Each Tuesday on his day off, he is more than eager to go out into the community to help others. He has been to the local police stations and safety fairs, hospitals to visit children and patients undergoing treatment, and schools encouraging academic excellence, eating breakfast and 60 minutes of physical activity a day. The motivation for him to give back came at an early age, coming from a large family, he was inspired to always give back and help others. Recently, Ibraheim teamed up with others in his hometown to put on his second annual youth football camp for kids in the area at his alma mater. It was an awesome opportunity for kids to get hands-on training and professional instruction as it pertains to the game of football. Good work, Ibraheim, keep up the great work! Thanks for choosing to #give10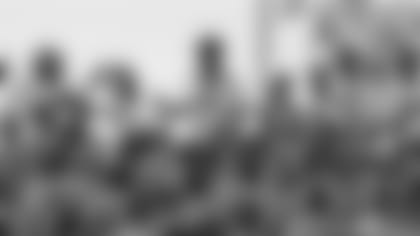 Follow @BrownsGiveBack on Twitter and Instagram and tell us what you are doing to help others using #give10 to unite us all as Browns fans. Give 10 hours, help your community.
The Browns are dedicated to #give10 through the team's First and Ten initiative. Launched in June 2014, the Cleveland Browns First and Ten campaign is the team's community program, established to inspire fans to volunteer in and help their communities throughout the world by volunteering for 10 hours each year. Since its inception, Browns fans have committed to volunteering more than 1 million hours to impact their communities by pledging to #give10. Through First and Ten, the Browns are the only NFL club to promote a long-term volunteering program that unifies the team and its entire fan base, with the goal of impacting every individual's city across the globe, as well as the franchise's local community. All Browns fans are encouraged to join the volunteering effort by signing the First and Ten pledge on the team's website and by sharing their stories with #give10