*The Cleveland Browns are committed to the community. Through First and Ten, the Dawg Pound is encouraged to share what they are doing to give back. Get inspired and check out what these fans are doing to help their community:
*How do you give back?#give10
Name:  Joe D.
Hometown: Lakewood, OH
What you do to give back?
Joe has been a teacher for nearly 20 years. He's currently teaching physical education at the Willson School in Cleveland. Because of his passion for youth health he encourages kids to stay active outside of the classroom and make healthier choices. He has teamed up with a program called Healthy Cities that brings community to the schools. The initiative helps provide healthy food for families who need it the most. Health screenings are also available for each member of the family. Joe is excited about the ability to bridge the gap between the school and the students and families it serves. At this point, it's about more than education but action as well.
Name: *Maximo *Hometown: Amherst, OH What you do to give back?
Maximo, a Browns inside sales rep, chooses to #give10 and give back because it's important to his family. His mom funds and drives a camp for kids with autism, and it's something he's always enjoyed doing. He says for how fortunate he's been in his life it only makes sense to reach out to help people who are less fortunate or who may need some help. He does it because he wants to, not because he has to. So he jumped right in after joining the team and came to a number of First and Ten events such as the Browns Special Olympics Play 60 Football Festival and the High School Showcase.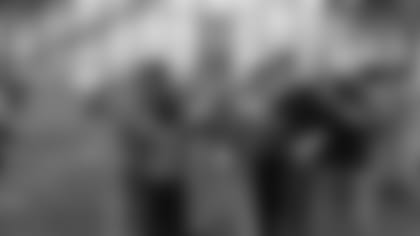 Name: Gary Barnidge
Hometown:Middleburg, FL
What you do to give back?
Gary Barnidge has once again taken time out of his offseason to #give10 and help those in international communities. In addition to all he does throughout the year, including providing tickets to children through Ohio Guidestone, his work with Samaritan's feet and his fun and fan-centered social media contests and outings, Gary is a co-founder of American Football Without Borders (AFWB). This year, AFWB held football camps in Finland for men, women and children who are excited and willing to learn about the sport. While they were in Finland they not only hosted camps, but they also made a difference in the communities by immersing themselves in the culture by visiting schools and hospitals to meet a number of locals. Because of all of his fantastic and selfless work in the community, Gary was also the Cleveland Browns Walter Payton Man of the Year Award recipient in 2015.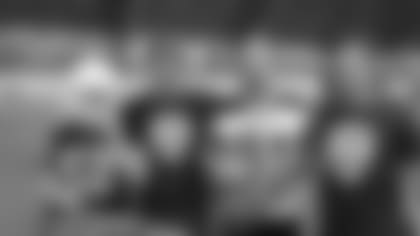 Name:  Jerry I.
Hometown: Ridgeville, OH
What you do to give back?
Jerry started a nonprofit group called Heroes United in October. He began doing summer school events with his son, who has non-verbal autism, and his classmates. After dressing up as Mr. Incredible and going out into the community volunteering to do events, he chose to start his own group, which has grown to more than 50 members. Since October, Jerry alone has committed to nearly 30 events completing a total of 40 hours. Most events are focused on special needs schools and adult centers, but also include monthly visits to Ronald McDonald House, Boys and Girls Clubs, Autism Speaks and more. He believes that children and adults in the community, healthy or sick, can all use a smile and a glimmer of hope. Jerry says when his son goes to events with him, it shows that someone with a disability can be a super hero too, and it's for him and people like him that he continues to do what he does and keep spreading the word of hope and joy.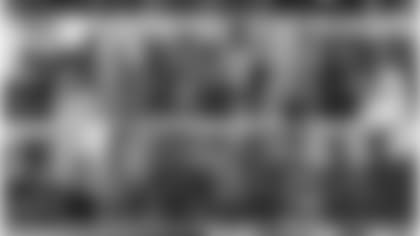 Name: Rewa S.
Hometown: Cleveland, OH
What you do to give back?
Rewa is a volunteer at her son's catholic school assisting with the bingo night and other collective fundraisers. She is also a team mom for her son's high school football team. Rewa, like many, goes above and beyond for her son and his teammates. Assuring they arrive at practice on time, have a ride from the fields and get back home safely. Recently, the team experienced great success in which they were invited to play in a national tournament held in Florida. Rewa and two other moms accompanied 20 plus youth to the games. Because they were the only chaperones, Rewa and her friends collected enough money to make sure the boys would be able to have dinner every night. They cooked and cleaned and treated each of the boys as if they were their own sons.  Although her son will be graduating soon, she will continue to help out with the team. She likes to see the boys succeed when they're in their element and happy and says it keeps them focused on the right things.
Follow @BrownsGiveBack on Twitter and Instagram and tell us what you are doing to help others using #give10 to unite us all as Browns fans. Give 10 hours, help your community.
The Browns are dedicated to #give10 through the team's First and Ten initiative. Launched in June 2014, the Cleveland Browns First and Ten campaign is the team's community program, established to inspire fans to volunteer in and help their communities throughout the world by volunteering for 10 hours each year. Since its inception, Browns fans have committed to volunteering more than 1 million hours to impact their communities by pledging to #give10. Through First and Ten, the Browns are the only NFL club to promote a long-term volunteering program that unifies the team and its entire fan base, with the goal of impacting every individual's city across the globe, as well as the franchise's local community. All Browns fans are encouraged to join the volunteering effort by signing the First and Ten pledge on the team's website and by sharing their stories with #give10