Browns Give Back, the philanthropic arm of the Cleveland Browns, is dedicated to improving the quality of education for students in Northeast Ohio by making investments that keep kids in school, every day, so they can succeed. The Cleveland Browns believe school attendance is a game-changer and a building block of student achievement. Chronic absence is the single strongest predictor of students dropping out of school before graduation. To help resolve this problem, Browns Give Back works to build a school-going culture and address the underlying causes of chronic absenteeism with data-driven insights. Below highlights the exceptional work of the Browns' community partners and their profound dedication to improving the lives and education of local youth in our communities.
The Centers for Families and Children: Present for Brain Building
Good school attendance habits start in preschool. Preschool and kindergarten students that are chronically absent are more likely to repeat a grade in elementary school. Browns Give Back and The Centers for Families and Children partnered to launch the Present for Brain Building initiative in 13 preschool sites across Cleveland to focus on student attendance to give students the best start in school and in life. The initiative will track and use attendance data to incentivize families and children and identify barriers that keep children from preschool.
Cleveland Metropolitan School District: "Get 2 School. You Can Make It!" Attendance Campaign
Browns Give Back is the signature partner for the Cleveland Metropolitan School District (CMSD) "Get 2 School. You Can Make It!" attendance campaign, which works to remove barriers keeping students from school. Studies show that for CMSD students, missing even ten days of school (that's only one day a month) has a significant, negative impact on test scores and graduation rates. Over the past 3 years, the campaign has decreased the number of students with off-track attendance by nearly 22%! This means over 4,100 students have improved their attendance habits, which increases their likelihood of graduating high school by 34%.
College Now Greater Cleveland: Marion Motley Scholarship
Browns Give Back and College Now Greater Cleveland annually awards two $10,000 scholarships to deserving students and the scholarship targets low-income, first-generation students. Since its inception, the program has provided $240,000 in scholarship funds to 24 deserving students. Among Marion Motley Scholarship recipients, 92 percent graduated or are on track to graduate, significantly surpassing the 26 percent national average among comparable demographics.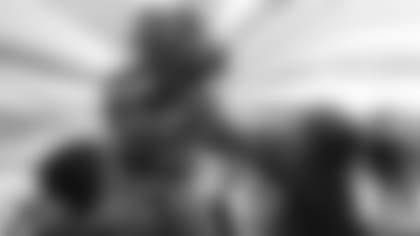 Cuyahoga County: Universal Pre-kindergarten Program (Glenville Preschool Center)
Browns Give Back is proud to support the community-wide effort to expand access to high-quality preschool by investing in two new classrooms in the Glenville neighborhood. The Glenville Early Learning Center is located in one of Cleveland's most impoverished neighborhoods, and this center alone will offer 40 spots to neighborhood children at no cost to their families. Children enrolled in Cuyahoga County's Universal Pre-Kindergarten (UPK) program are significantly more prepared for kindergarten and are 30% more likely to pass third-grade reading proficiency tests – a critical indicator of whether a child will graduate from high school. Further, disadvantaged children in UPK classrooms on average show a 55% improvement in foundational school readiness skills.
Ginn Academy High School: Life Coaches Program
Browns Give Back supports the Ginn Academy's Life Coaches program. Ginn Academy was founded in 2007 by Ted Ginn, Sr., and is the only all-male public high school in Ohio. The Ginn Academy aims to educate the children, address attendance, academic, social and emotional needs by assigning each student a Life Coach.
Life Coaches provide dedicated support 24 hours a day, 7 days per week. Due to the structure and their support, Life Coaches help impact student achievement and graduation rates by assisting students to realize the value of their education and eliminating obstacles and distractions that prevent kids from succeeding. The Ginn Academy boasts a 95% high school graduation rate and 83% of students go on to attend college, enter the workforce or enter the military.
Shoes and Clothes for Kids: Special Teams Package Program
Shoes and Clothes for Kids (SC4K), Cleveland Metropolitan School District (CMSD) and Browns Give Back teamed up to remove clothing as a barrier to school attendance by delivering school uniforms, casual clothes and school supplies to Cleveland students experiencing economic hardship.
The clothing program is called "Special Teams Package" and provides a customized package containing three school uniforms, one casual outfit, a shoe gift card and school supplies to students demonstrating a need and identified by the CMSD.
Annually, SC4K serves 2,000 Cleveland students through the Special Teams Package program and CMSD tracks attendance for students receiving a clothing package as part of the "Get 2 School. You Can Make It!" attendance campaign. Attendance data is used to evaluate the impact of the clothing program on school attendance and shows attendance increasing between 3-24% the following month after receiving a Special Teams Package.
The Browns Give Back to Northeast Ohio with a commitment to education and youth football while engaging the community through the team's signature First and Ten volunteer movement. For more information about community programs the Browns' support, visit www.clevelandbrowns.com/brownsgiveback.