As head coach Kevin Stefanski gathered the team to end the Browns' walkthrough practice Saturday at CrossCountry Mortgage Campus, he waved his arm and invited a large group of former Browns players and family members to join him.
The Browns hosted the alumni at the practice to kick off a weekend of commemorating their contributions to the franchise. On Sunday during their home opener against the Jets, they'll honor legendary offensive tackle and 10-time Pro Bowler Joe Thomas and the late Darrel "Pete" Brewster, a two-time Pro Bowler who played defensive end and tight end for the Browns from 1952-1958, as they are officially inducted into the Browns Legends program.
Stefanski allowed Thomas, whom he said "doesn't need an introduction because he's getting a gold jacket next year," to break down the team huddle.
"It's so awesome," Thomas said. "Always coming back to Cleveland is some of the highlights of my year, especially around the home game for the home opener when there's so much electricity in this town. To be able to bring my family with me and have the Haslams and the Browns roll out the red carpet for us is beyond anything I could've anticipated."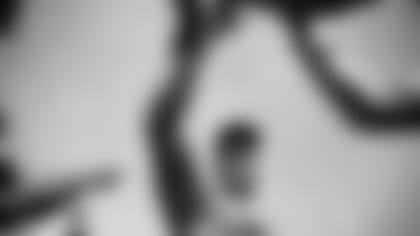 Brewster, who passed away in January 2020, was represented by his four daughters, who were overjoyed to see the Browns recognize their father in the current era of the team.
"He was an emotional guy, and he would've been so humbled," said Debbie Wildeisen. "He would've been so excited, and I think all the memories would flood back. I'm sure he would be emotional."
All of the alumni will also attend a banquet dinner Saturday night before taking in the action from FirstEnergy Stadium on Sunday when the Browns play the Jets. Thomas and Brewster will each be honored in a halftime ceremony.
"It's going to be an incredible atmosphere and probably a little overwhelming for a lineman who's not used to having the attention on him," Thomas said. "It's so fun watching this city come to life on gameday, and I'm hoping to show them a little love when I'm out there."