Love him or loathe him, Mel Kiper Jr.'s opinion on the NFL Draft always makes waves. 
On Thursday, the longtime ESPN analyst released his first mock draft of the season.
The Cleveland Browns enter the draft carrying more ammunition than any other team. The Browns are picking at No. 12 and No. 19. No other team has two first round picks.
With the 12th overall selection, Kiper pegged Washington defensive lineman Danny Shelton. At 6-foot-2, 332 pounds, Shelton is a massive force who would beef up the Browns' run defense in the middle. Shelton lived in the backfield, registering 16.5 tackles for a loss and nine sacks, the latter of which being an eye-opening number for a defensive tackle.
Wrote Kiper: In Mike Pettine's system, you really can use powerful bodies up front who can hold blocks but also create some movement and occasionally penetrate, and the massive Shelton is a nice fit for a team that struggled to consistently stop the run.
Maybe more importantly, Shelton was the first Huskies player to earn Academic-All American honors since 1991. Shelton's a smart, passionate player, who on paper, seems like he would fit right into Cleveland's culture of Play Like a Brown.
Kiper's projection for the 19th pick is a little more outside-of-the-box. 
Ereck Flowers, a 6-foot-6 junior offensive tackle from Miami, is the player Kiper deems as fitting the Browns the best. Flowers showed supreme toughness for the Hurricanes in 2014. After undergoing knee surgery on Oct. 23, Flowers willed his way back onto the field Nov. 15 to help anchor an offense that averaged 430.4 yards per game.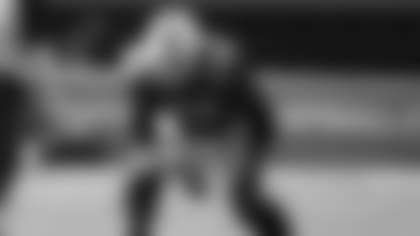 Wrote Kiper: Flowers offers insurance for Joe Thomasand Mitchell Schwartz and also at guard in a year after the injury to Alex Mack(and subsequent shuffling up front) was quietly devastating if you look at Cleveland's ability to run the ball. Anybody who assumes an O-line or D-line is in great shape without considering depth should watch what happened to the Browns when Mack went down.
Kiper isn't the gospel when it comes to mock drafts. Many other "mockers" have the Browns looking at two top-flight wide receivers – West Virginia's Kevin White and Louisville's DeVante Parker.
White is a slender 6-foot-3, 210-pound target with quick feet and has supreme ability in yards-after-the-catch scenarios. White finished the season with 109 catches for 1,447 yards and 10 touchdowns for the Mountaineers.
Parker, although nearly identical in size as White, is known to be the more powerful receiver of the two and had a knack for winning one-on-one matchups with cornerbacks at Louisville. Parker missed six games in 2014 yet was still able to post 43 catches, 855 yards and five touchdowns.
12: DeVante Parker (WR Louisville)

19: Eddie Goldman (DL Florida State)

12: T.J. Clemmings (OL Clemson)

19: Eddie Goldman (DL Florida State)

12: Kevin White (WR West Virginia)

19: Alvin Dupree (DL Kentucky)