Thank you to the following individuals who are giving back! We encourage community service and all acts of giving back and are proud of our fans who continue to make a difference. These outstanding individuals are pillars in their communities and inspire us all to #give10.
What they do to give back:
Corey has been volunteer Boy Scout leader for over 25 years serving in a variety of different packs, troops and district volunteer positions. His passion for scouting started as a youth, when he rose to the rank of Eagle Scout. He greatly recognizes the benefits of participating, and believes it is his duty to continue to give back to this new generation. Corey believes that it is necessary to provide leadership and be a mentor to the areas youth, and knows the Boy Scouts goes a long way in preparing young people to make ethical and moral decisions as they grow.
What they do to give back:
John has walked by his local recreation center every day since moving into the area and was disappointed to see the condition it was in. The overgrown grass, graffiti and trash made it an uninviting place for the local children to go hang out. With his determination, he set out to make the center more welcoming. What started out as a one man operation turned into a neighborhood effort; before long the whole community came together to #give10. During weekends, you could find the crew mulching, painting, and cleaning. The new and improved rec center is now an integral component of the local community, and provides a safe and fun environment for the areas youth.
What they do to give back:
In addition to making an impact on the gridiron, LB Craig Robertson's passion is felt just as much in the Cleveland community. Robertson has dedicated himself to the city, spending his off days at area schools and hospitals, using his elevated platform to make an impact in the lives of those less fortunate. This effort has not gone unnoticed, as he was this year's recipient of the Walter Payton Man of the Year Award. The award is given annually to one member of each of the NFL's 32 teams for the players' community service and playing excellence. Since coming into the league in 2011, Robertson has been a staple at community events with his passion and infectious smile lighting up the room wherever he goes.
Hometown: Fort Recovery, OH
What they do to give back:
Leah is a passionate fan who finds herself giving back in more ways than one. Since her childhood, Leah has been a dog lover. This passion has carried over into her teenage years, and she now volunteers her weekends at a local animal shelter ensuring the animals get the love and attention they need. When she is not at the animal shelter, you can find Leah helping out the elder dog owners in her area by walking their dogs free of charge.
What they do to give back:
Kate has been part of the #give10 movement since its inception, learning about the program through her husband, a longtime Browns fan. Graduating with a law degree, she knew she could use this degree to help those less-fortunate in her area. For the past year, Kate has been providing free legal aid to single parents in Cuyahoga County. Although very time-consuming, she finds the work gratifying and rewarding.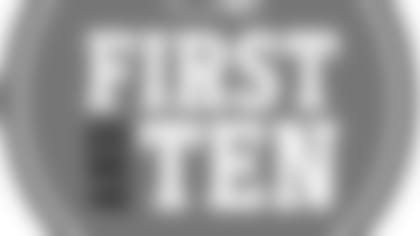 Make sure to let us know how you are giving back! Share your stories of goodwill on the First and Ten webpage or through @BrownsGiveBack to be recognized for your work!