Hats Off to Our Heroes: The Cleveland Browns welcomed members of the United States Army in their Honor Row on Sunday, November 3rd as they took on the Tampa Bay Buccaneers.
The Cleveland Browns welcomed members of the U.S. Army in their Honor Row on Sunday, November 3rd as they took on the Tampa Bay Buccaneers. The Browns honored the following individuals: SSG Eric Smith, SFC Andrew Sztiter, SGT Matthew Truxel, SFC Russell Tansey, SSG Robert Granfors, SSG Christopher Dixon, SFC Anthony Ray, SSG Matthew Kershner, SGT Andrew Branic, SSG John Cain, SFC Joseph Starcher and SSG Gabriel Hite. The Browns recognize and salute these individuals from the U.S. Army for their dedication to serve our country so courageously, Hats Off to Our Heroes!
DID YOU KNOW? The Army has 1.1 million soldiers in their ranks and more than 400,000 civilians and contracted employees.  If they were a city, they would represent the fourth largest city in the United States!We thank these individuals for serving our country and protecting our freedoms.
Through the Hats Off to Our Heroes program, the Cleveland Browns proudly support the men and women who risk their lives to serve our communities and country throughout the year. During home games, we honor these individuals and those they represent as military and community representatives seated in the Honor Row. The Honor Row is designed to express gratitude to those heroic individuals through an elite experience at a Browns home game as they are honored at the end of the 1st quarter by a standing ovation of appreciation from fans at FirstEnergy Stadium. The Browns are grateful to the brave men and women of Northeast Ohio who so capably serve, protect, and defend.
The Cleveland Browns care about Northeast Ohio and know our fans have a long history of giving back to the community. We encourage community service, no matter how big or small, and have launched the First and Ten volunteer campaign to capture our fans acts of kindness. Support our troops and their families by pledging to #give10 at the USO of Northern Ohio.  One of First and Ten's community partners, the USO's mission is to support the troops by providing morale, welfare and recreation-type services to our men and women in uniform.  Visit http://usonorthernohio.org/ to see how you can get involved and lift the spirits of America's troops and their families.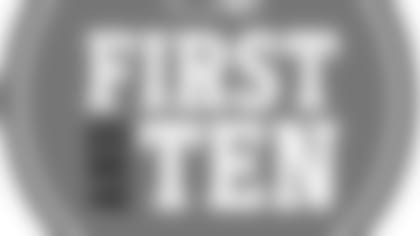 Make sure to let us know how you #give10 hours of community service. Share your stories of goodwill on the First and Ten webpage or through @BrownsGiveBack to be recognized for your work!