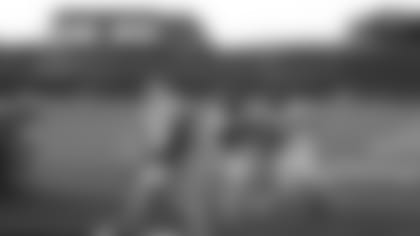 | | | | | | |
| --- | --- | --- | --- | --- | --- |
| Final | 1st | 2nd | 3rd | 4th | Final |
| Fairview | 0 | 7 | 6 | 0 | 13 |
| Rocky River | 7 | 16 | 17 | 13 | 53 |
1st Quarter
R – Crawford, 20 yard rushing TD (PAT good)
2nd Quarter
R – Crawford, 4 yard rushing TD (2-pt Josh Ranc)
F – R. Provenza, 29 yard reception from Filkill (PAT Good)
R – Rodgers, 10 yard reception from Blue (2-pt Jack Aerni)
3rd Quarter
R – Crawford, 18 yard rushing TD (PAT Good)
R – Konrad, 22 yard field goal
F – J. Provenza, 4 yard rushing TD (2-pt failed)
R – Crawford, 3 yard rushing TD (PAT Good)
4th Quarter
R – Sekic, 43 yard reception from Blue (PAT Good)
R – Holian, 11 yard rushing TD (2-pt failed)
Coach of the Week: Josh Wells
MVP of the Game: Dameon Crawford (RB #8)
Key Stats (by player):
Fairview
1. Josh Filkill (QB #5) 8/12 125 passing 1 TD, 16 carries for 45 yards rushing
2. Jack Provenza (RB #15) 5 carries for 56 yards rushing, 1 TD
3. Jason Sassano (WR #12) 1 catch for 56 yards receiving, 1 TD
Rocky River
1. Cameron Blue (QB #4) 9/15 passing 2 TD, 6 carries for 53 yards rushing
2. Dameon Crawford (RB #8) 20 carries for 244 yards rushing, 4 TD
3. Josh Sekic (WR #2) 2 catches for 72 yards receiving, 1 TD
Cleveland Browns First and Ten
While visiting a different community each week for the Cleveland Browns High School Game of the Week, we come across an overwhelming amount of selfless individuals who help make high school football so special in their respected communities. This week we met Fairview volunteer, Dave Afanador. Dave volunteers his time announcing at the Fairview High School home football games. Dave has spent the last 6 years announcing for the Warriors and has been involved with youth football and coaching for the 26 years. He currently coaches for the Fairview 7th and 8th grade youth football teams. Dave is a Business Develop Manager for Hyload, handling roofing and water projects for the company. Through his job, he was able to donate loud speakers to Fairview's Dr. James B. Daley Stadium to utilize during various events.
How are you giving back? Share your stories using #give10.
Stats courtesy of Fairview's Jeff Belko and Rocky River's Jeff Hammond.
Make sure to follow @BrownsYouthFB on Twitter to stay up to date on all Cleveland Browns youth and high-school football programing throughout the year.