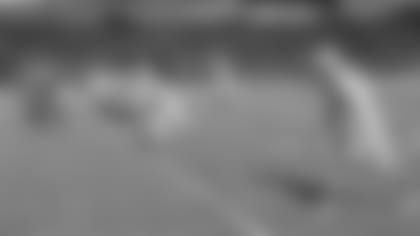 Week 5 of Cleveland Browns High School Game of the Week presented PNC Bank Postgame Notes
B – Epps, 28 yard rushing TD (PAT good)
M – Crum, 1 yard rushing TD (PAT good)
B – Swinnerton, 32 yard reception from Gassman (PAT good)
M – Forrer, 1 yard rushing TD (PAT good)
M – Bolin, 1 yard rushing TD (PAT good)
Coach of the Week: DJ Shaw
MVP of the Game: Alec Forrer Jr. RB #24
Nick Gassman (QB #11) 10/22 143 passing 1 TD; 16 carries for 61 yards
Shawn Epps (RB #24) 7 carries for 87 yards rushing, 1 TD
Jared Peterson (WR #12) 5 catches for 69 receiving
Alec Forrer Jr (RB #24) 22 carries for 131 rushing yards, 1 TD; 3 catches for 42 receiving
Logan Bolin (QB #13) 7/11 91 yards passing; 16 carries for 65 yards rushing, 1 TD
Daimion Mahone Jr. (WR #2) 6 catches for 80 yards receiving
Play Like a Brown Moment of the Game
With the Titans threatening a comeback late in the 4th quarter, Midview's DB Alec Forrer Jr. makes an open field tackle stopping the Titans Joey Bachie 1-yard shy of converting and entering Middie territory.
Cleveland Browns First and Ten
While visiting a different community each week for the Cleveland Browns High School Game of the Week, we come across an overwhelming amount of selfless individuals who help make high school football so special in their respected communities. This week we met Berea-Midpark Booster volunteer, Linda Cummings, who volunteers her time at all home Titans football and volleyball games. She leads the Lady Titans Volley for a Cure to benefit, benefiting the Susan G. Komen Foundation, which kicks off next week when the Titans take on Maple Heights.
How are you giving back? Share your stories using #give10.
Stats courtesy of Berea-Midpark's Carl Hamilton
Make sure to follow @BrownsYouthFB on Twitter to stay up to date on all Cleveland Browns youth and high-school football programing throughout the year.