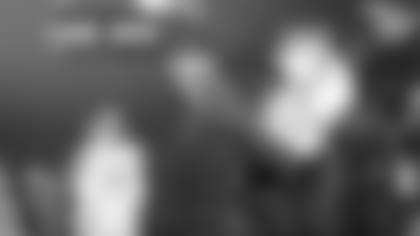 | | | | | | |
| --- | --- | --- | --- | --- | --- |
| Final | 1st | 2nd | 3rd | 4th | Final |
| Olentangy | 0 | 7 | 7 | 0 | 14 |
| Lorain | 0 | 6 | 8 | 20 | 34 |
1st Quarter
2nd Quarter
O – Slade, 8 yard rushing TD (PAT good)
L – Huff, 1 yard rushing TD (2pt no good)
3rd Quarter
L – Cross, 88 yard TD reception from Sturgill (2 pt conversion good, Brooks on reception)
O – Durst, 10 yard reception from Haag (PAT good)
4th Quarter
L – Brooks, 4 yard TD reception from Sturgill (2 pt no good)
L – Chavis, 16 yard rushing TD (2 pt no good)
L – Bohannon, 96 yard INT return (2 pt conversion good, Chavis on rush)
Coach of the Week: Dave McFarland (Lorain)
MVP of the Game: Daesean Brooks WR #23
Key Stats (by player):
Olentangy
1. Zach Slade (FB #48) 13 carries for 69 yards, 1 TD
2. Connor Haag (QB #17) 13/26 127 yards 1 TD
3. Sam Durst (WR #10) 4 receptions for 46 yards, 1 TD
Lorain
1. Daesean Brooks (WR #23) 7 receptions for 136 yards, 1 TD
2. Justin Sturgill (QB #29) 13/24 281 yards, 2 TDs
3. Carlos Chavis (RB #33) 10 carries for 56 yards, 1 TD
Cleveland Browns First and Ten
While visiting a different community each week for the Cleveland Browns High School Game of the Week, we come across an overwhelming amount of selfless individuals who help make high school football so special in their respected communities. This week we met Melanie Williams and Janet Garcia. The two women volunteer their time at every home game for the Titans selling team gear. Both have done so for roughly 8 years and love being involved in the game atmosphere. The funds from the sales go towards Lorain's Sports Boosters which provides financial help to every sport at Lorain High School. Melanie works for Lorain County Community College as a program developer in Workforce and Business Services, and has a daughter at Lorain High School who is a junior and 3 year starter on the varsity football team and 3 year cheerleader for both football and basketball. Janet takes part in various volunteer opportunities within Lorain, OH which includes political initiatives and art events. Her fourth and final daughter is a senior at Lorain High School and is on the drumline in the Lorain High School band.
How are you giving back? Share your stories using #give10.
Make sure to follow @BrownsYouthFB on Twitter to stay up to date on all Cleveland Browns youth and high-school football programing throughout the year.