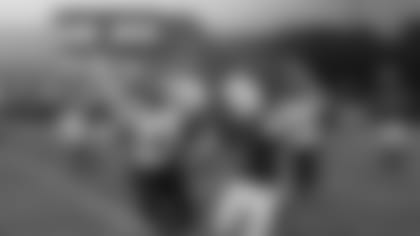 | | | | | | |
| --- | --- | --- | --- | --- | --- |
| Final | 1st | 2nd | 3rd | 4th | Final |
| Shaw | 0 | 7 | 0 | 0 | 7 |
| Lorain | 6 | 8 | 6 | 20 | 34 |
1st Quarter
L – Chavis, 1 yard rushing TD (PAT no good)
2nd Quarter
S – Patton, 10 yard rushing TD (PAT good)
3rd Quarter
L – Huff, 1 yard rushing TD (Cross, 2pt conversion good)
4th Quarter
L – Huff, 1 yard rushing TD (2pt conversion no good)
L – Chavis, 28 yard rushing TD (PAT good)
L – Brooks, 58 reception from Sturgill (PAT good)
Coach of the Week: Dave McFarland (Lorain)
MVP of the Game: Carlos Chivas RB #33
Key Stats (by player):
Shaw
1. Alejandro Washington (QB #8) 6/16 for 121 yards, 1 INT
2. London Patton (RB #12) 10 rushes for 45 yards, 1 TD
3. Lemaro Smith (WR #3) 2 receptions for 70 yards
Lorain
1. Carlos Chivas( RB #33) 24 carries for 169 yards, 2 TDs
2. Davion Dower (QB #2) 9/16 for 74 yards
3. Zion Cross (WR #4) 6 receptions for 49 yards
Cleveland Browns First and Ten
While visiting a different community each week for the Cleveland Browns High School Game of the Week, we come across an overwhelming amount of selfless individuals who help make high school football so special in their respected communities. This week we met Tom Bauer, Jay Ferguson and Rick Amador. The trio are a part of the Lorain High School production team for all of the Titans home football games. Collectively, the three combine for over 30 years of service to the Lorain High School event production and plan on continuing their commitment for years to come. Tom and Jay are both retired school teachers and have spent the most time with the Titans, while Rick is the finance manager at Liberty Ford Lincoln in Vermillion. From humble beginnings, the production team started almost 15 years ago with 3 people and 1 camera. Today, the team consists of 4 volunteers and 15 students who all cover the games with a variety of equipment, and is now a class at Lorain High School. From seeing the programs growth, to building relationships with the students in the area, and witnessing how this program has guided students onward towards a production based future, Jay, Tom and Rick feel that their time and work is making a difference!
How are you giving back? Share your stories using #give10.
Make sure to follow @BrownsYouthFB on Twitter to stay up to date on all Cleveland Browns youth and high-school football programing throughout the year.