In the first quarter, LT Joe Thomas surpassed 10,000 consecutive offensive snaps in his career. He extended his streak to 10,062, believed to be the longest streak in NFL history. The 10-time Pro Bowler has started all 162 career games and hasn't missed an offensive play since being selected by the Browns with the third overall pick in the 2007 draft. [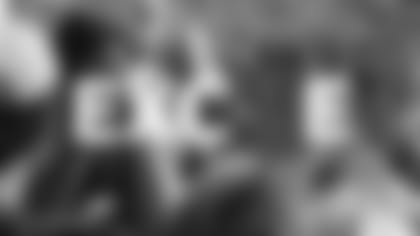 WR Rashard Higgins, who was signed off the practice squad yesterday, set career highs in receptions (seven) and receiving yards (95). Higgins, a fifth-round pick in 2016, recorded six receptions for 77 yards all of last season.
Rookie TE David Njoku recorded three receptions for 27 yards and a touchdown. In the second quarter, he hauled in a 23-yard score for his first career touchdown.
TE Seth DeValve recorded two receptions for 61 yards, including a career-long 49-yard catch in the second quarter.
DB Jason McCourty recorded his first interception as a Brown and forced a fumble. He has 14 career interceptions.
LB James Burgess Jr. recorded his first career sack.
LB Christian Kirksey tied for the team lead with nine tackles recorded his first sack of the season. He has nine sacks in his career.  
RB Duke Johnson Jr. registered three receptions for 59 yards, including a 34-yard catch. The 34-yard reception tied for the second-longest of his career. He also added 21 rushing yards,
Rookie DeShone Kizer completed 15 of 31 passes for 182 yards. He missed time in the second and third quarter with a migraine.
QB Kevin Hogan, who entered the game in the second quarter, completed 5 of 11 passes for 118 yards with one touchdown. He recorded his first career touchdown pass on a 23-yard strike to rookie TE David Njoku. Hogan led the Browns on two scoring drives.
RB Isaiah Crowell rushed for 37 yards. With 2,335 career rushing yards, he ranks ninth on the Browns all-time rushing list.
Browns all-time rushing yardage leaders
*                    Player                   Years              Games       Att.        Yards         TD*
6.      Earnest Byner       1984-95 (7)         99            862         3,364          27
7.      Ernie Green           1962-68 (7)         89            668         3,204          15
8.      Jamal Lewis          2007-09 (3)         40            720         2,806          13
9.      Isaiah Crowell     2014-17 (4)         51            558         2,335          19
10.    Bobby Mitchell     1958-61 (4)         50            423         2,297          16
Rookie K Zane Gonzalez connected on a 38-yard field goal and converted on his only extra point attempt.          
LB Jamie Collins Sr. left the game with the fourth quarter with a concussion.
The Browns play the Baltimore Ravens in Week 2 of the 2017 season.