No matter the circumstances, the "Stay in the Game!" Network has continued to encourage and support students to maintain a strong educational-going mindset to keep learning, every day, aligned with its overall goal to help end chronic absenteeism and provide all students equal opportunities to be successful.
Just in the past month, the Browns distributed $350,000 to East Cleveland City Schools to address a digital divide that has come into even sharper focus during the COVID-19 pandemic. The donation will help provide families, students and educators with the tools, training and equipment necessary to enhance their educational efforts, which are even more paramount now due to remote learning needs as a result of COVID-19 protocols.
"I feel overwhelmed that the Browns are leveling the playing field of education," said Marc Antony Johnson, a student at Kirk Middle School in East Cleveland. "My friends and schoolmates sometimes feel that because of where we are from and how limited our resources are, that we don't matter. The Browns caring enough to help us goes a long way to make us feel like a whole student!"
Johnson's sentiments show how the actions of the "Stay in the Game!" Network are impacting each one of more than 110,000 students from 16 school districts on a personal level. These are some of the individual stories of how the "Stay in the Game!" Network has made a positive impact on the lives of students throughout the area.
Jeff Humphreys came to the Western local School District during the 2014-15 school year. His attendance was "decent" but then slowly declined because of suspensions, absences and tardies, most of which were unexcused.
Jeff's attendance patterns put him on course to miss 25 days. With every missed lesson having a compounding effect on Jeff's performance, he was challenged to take the "Stay in the Game!" Attendance Pledge. Jeff's love of football made for a strong connection, and he received constant reminders to "stay in the game."
This year, Jeff has no tardies or suspensions and one absence, which was excused because of an orthodontist appointment. His 98 percent attendance rate is an 11-point jump from last year's.
David Aaron Miller, like many students, struggled with the transition to high school. The Maple Heights High student was a stellar athlete and smart, respectful young man, but he struggled to maintain good grades, goofed off in class and was consistently tardy. As a result, David was declared ineligible for his freshman basketball season. It was a much-needed reality check.
Now, David is a two-sport athlete as well as an honor roll student. His attendance has improved tremendously and he is on time every day. His grades reflect it, too, as he earned all A's and B's during the first quarter. His strong performance in the classroom allowed him to excel on the football field as a wide receiver for the varsity team. David has matured a great deal and is now a role model for younger students and players.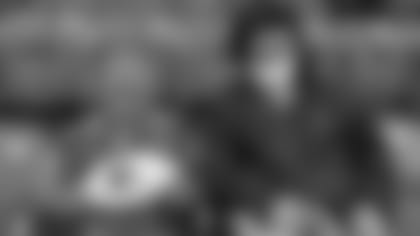 Peighton Hahn is a student at Windemere CLC in Akron Public School District. Like many students across the country, Peighton has been forced to adjust to virtual learning, and it hasn't always been easy. She's had frequent technical difficulties since school began because the Internet connection at her home isn't always reliable.
Those technical difficulties just wouldn't stop Peighton. No matter how many times her Internet kicked her off, she would pop right back into her virtual classroom. She soon relocated to her basement so she could be closer to her router and has been plugging away ever since.
Peighton was awarded a Myles Garrett autographed football for her success story and was in attendance for the Browns' Week 8 game against the Raiders.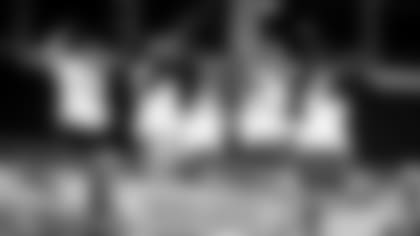 The "Stay in the Game!" Network is a statewide initiative designed to promote the importance of school attendance and put an end to chronic absenteeism. The team engages local school districts and promotes quality education by using attendance data and feedback from families to build a school-going culture, uncover and reduce common barriers to attendance and support engagement opportunities for students to thrive.
For the 2020-21 school year, the "Stay in the Game!" Network partnered with 16 school districts, benefitting more than 110,000 students in Ohio. An adaptation of the "Get 2 School, Stay In The Game!" Network, which launched Aug. 2019, the name change reflects the current environment where schools may not necessarily be able to host in-school learning due to the COVID-19 pandemic.
Fans are encouraged to support the "Stay in the Game!" initiative and its efforts to address the digital divide by donating gently used desktop computers, laptops, monitors and other computer accessories to be refurbished and redistributed by PCs for People to low-income families. Approved list of accepted donations include: Cell phones, tablets, desktop computers (within last 5 years, laptops, LCD Monitors (all sizes), Plasma screens, LED screens, keyboards, mice, printers, speakers, hard drives, memory, power cords and any computer accessories! For more details on PCs for People, visit https://www.pcsforpeople.org/about-us/.
Those who contribute to the Browns' Digital Device Drive at FirstEnergy Stadium will receive a coupon for a 10 percent discount at the Browns Pro Shop. On gamedays throughout November, drop-off locations will be located near the bag-check tents on the northeast and southwest corners of the stadium. During all other days of the month, individuals will be able to submit their items outside of the Browns Pro Shop.
Select Cuyahoga County Public Library locations are also participating in the Browns' Digital Device Drive in November.
Digital Divide Device Donations - Frequently Asked Questions
How can I help? Fans can help kids all throughout Ohio #StayInTheGame and keep learning this school-year by donating to the Cleveland Browns' Digital Device Drive so students have what they need to participate in their in-person or remote classes.
What are the approved list of items accepted? Cell phones, tablets, Old desktop computers (within last five years), laptops, LCD Monitors (all sizes), plasma screens, LED screens, keyboards, mice, printers, speakers, hard drives, memory cards, power cords and/or any computer accessories!
How long does the device drive run? Donations will be accepted all throughout the month of November 2020.
Can you tell me more about the Browns Pro Shop coupon? Those who contribute to the Browns' Digital Device Drive at FirstEnergy Stadium will receive a coupon for a 10 percent discount at the Browns Pro Shop.
Can I be certain all of my data will be wiped clean from donated equipment? All data will be wiped clean or destroyed from donated equipment of any kind, which includes computers, iPads, tablets and cell phones. 
Do I have to do anything special if donating Apple product (iPad or iPhone)?  Yes, in order for the equipment to be refurbished for a new user, donors of iPhones and iPads should remove their Apple ID from their device by backing up their data online and then executing a factory reset of the device. Apple devices that have not had a factory reset and are still associated with the donor's AppleID are not usable and will be wiped and scrapped using appropriate, zero-landfill recycling techniques.
Does PCs for People make sure that my donation is confidential and my identity can't be stolen? PCs for People protects the identity of its equipment donors by removing all identifying labels from equipment that is collected, including asset tags and logos. All data is completely destroyed as a part of our sanitization process.
Does PCs for People have industry certification for data destruction? PCs for People has the NAID (National Association of Information Destruction) AAA certification which is the highest certification for data destruction available. Any assets collected from donors are inventoried and sanitized according to NAID AAA policies.