*The Cleveland Browns are committed to the community. Through First and Ten, the Dawg Pound is encouraged to share what they are doing to give back. Get inspired and check out what these fans are doing to help their community:
*How do you give back? #give10
Name: Alex Hometown: Cleveland, OH What you do to give back?
**Alex kick started a program called Recess Cleveland that aims to increase public participation, stimulate emotional growth, and promote physical activity by throwing pop up recess events in areas lacking positive environments for recreation. Over the past 5 months, the program has helped entertain over 2000 people. Recess Cleveland events start with 'old-school recess' – they show up at an empty lot in the city and spread out our equipment (Frisbees, 'Skip its', hula hoops, etc.). Members of the community, previous event attendees, even random folks just walking down the street, are all invited to play! Once enough participants gather have enough players, they start the team games, including Capture the Flag, Football, Dodgeball and the hilarious new sport, Bubble Soccer! It's fun for the whole family!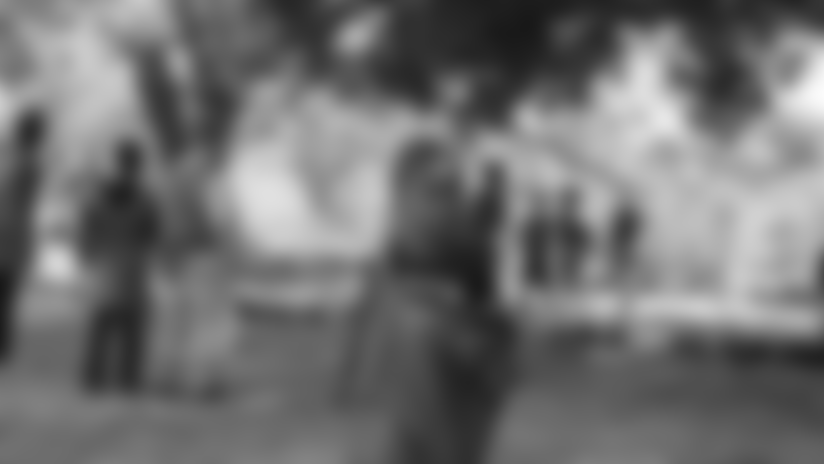 Name: Marie and Rich Hometown: Brookpark, OH What you do to give back?
Anna Marie and Rich continuously serve their community in many ways.  Both are very involved members of their church's Food Pantry programs, and every year during the Holidays, they volunteer to distribute presents to children in need.  In addition, Anna Marie and Rich also help to run many fundraisers put on by their church throughout the year. Thanks for taking the pledge to #give10! **
Name: Chi-town Dawg Pound Hometown: Chicago, IL What you do to give back?
**The Chi-town Dawg Pound Browns Backers Club officers spent time shopping at Toys R Us for the perfect presents for 80 kids of the Union League Boys & Girls Clubs for the holiday season. Overall, the Chi-town Dawg Pound raised over $4,000 this year for the kids! Thank you to everyone who donated! A special thanks to the Chicago Dawg Pound Club for choosing to #give10 this holiday season!
Name:  Cameron
Hometown: Cleveland, OH
What you do to give back?
Cameron who is from Cleveland, chooses to #give10 and help those in the community through his commitment to youth sports. Cameron says that he chooses to volunteer every year to help assist and coach youth football! Cameron is already discussing his future commitment to football camps next summer in August. Cameron chooses to bring his fellow teammates to Browns games during the season to cheer on the team! #Give10
Name: Jeremy
Hometown: Cleveland, OH
What you do to give back?
Jeremy gives back in a huge way by volunteering 100's of hours a year to helping people with intellectual and developmental disabilities. Along with this, Jeremy also chooses to volunteer to coach youth sports such as football, basketball and baseball. While Jeremy gives so much of his time to giving back to the community he also serves as the Facility Director for juvenile detention center to serve and help our youth. Thanks Jeremy!
Follow @BrownsGiveBack on Twitter and Instagram and tell us what you are doing to help others using #give10 to unite us all as Browns fans. Give 10 hours, help your community.
The Browns are dedicated to #give10 through the team's First and Ten initiative. Launched in June 2014, the Cleveland Browns First and Ten campaign is the team's community program, established to inspire fans to volunteer in and help their communities throughout the world by volunteering for 10 hours each year. Since its inception, Browns fans have committed to volunteering more than 1 million hours to impact their communities by pledging to #give10. Through First and Ten, the Browns are the only NFL club to promote a long-term volunteering program that unifies the team and its entire fan base, with the goal of impacting every individual's city across the globe, as well as the franchise's local community. All Browns fans are encouraged to join the volunteering effort by signing the First and Ten pledge on the team's website and by sharing their stories with #give10.