*The Cleveland Browns are committed to the community. Through First and Ten, the Dawg Pound is encouraged to share what they are doing to give back. Get inspired and check out what these fans are doing to help their community:
*How do you give back?#give10
Name: Miguel Pimentel
How they give back: 
Miguel is a member of our Cleveland Browns Family and has been volunteering within the community for a couple of years now. One of Miguel's most recent ventures is when he teamed up with the Achievement Centers' Adapted Football League. Adapted Football is a program that teaches kids with special needs and disabilities fundamentals and football skills during an 8-week long camp. Miguel has been volunteering with them for three years now and doesn't plan on stopping anytime soon. One of the best things Miguel says about volunteering at the camp is seeing how happy the kids are each weekend and seeing them grow up throughout his 3-year tenure. Miguel says he plans to #give10 for as long as he can.
Name: Vanessa Bekono
How they give back: 
Vanessa is one of our newest members to the Browns organization, but that hasn't stopped her from getting involved. Vanessa started with the Browns back in March and only a couple of months later she has taken the pledge to #give10. Vanessa volunteers with the Adapted Football League in collaboration with the Browns Foundation's partnership. She also volunteers with a Youth Soccer Camp back in her home state of California. Vanessa continues to follow her passion and wants to follow in her father's footsteps by giving back to the community through sports.
Name: Rob McBurnett
How they give back: 
Rob, who works for the Browns, has been volunteering for four years now. Some of his favorite things about the camp is the excitement that it brings to everyone. Rob says, "It's not only just the kids that get excited about the camp, but also the players who help out and the parents." When asked why Rob loves to #give10 and volunteer he said, "It's an incredible experience to work with kids and to see how they develop from both the football and the personal side of it." Rob plans on continuing to #give10 and is always one of the first to sign up for any First and Ten opportunities that the Browns offer.
Name: Andrew Berry and Scouting Department
How they give back: 
Andrew Berry, Vice President of Personnel, and all members of the Browns scouting department took a day off from being in the office to #give10 and provide an unforgettable experience for kids from the Boys and Girls Club of Lorain County and other local organizations. Approximately 50 kids had the opportunity to run around and have some fun on the field at FirstEnergy Stadium, home of the Cleveland Browns. After working on some football drills, getting their heart rates up and meeting some of the staff, they had a pizza party where they also got some Browns goodies to take home. The scouts and the kids alike had an absolute blast and they had a chance to show members of the community how the Browns #give10.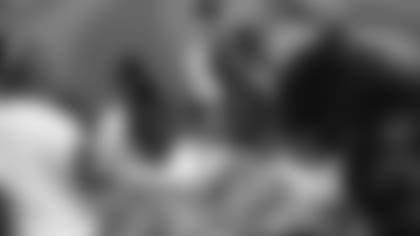 Name: Brad Postlewaite
How they give back: 
Brad is also one of our team members here at the Browns and has been volunteering with Adapted football for three years now as well. Brad says that one reason why he continues to volunteer is because he believes that it is good to make the world a better place. When asked how the Browns changed the way he volunteers he said, "The Browns helped plant the seed of volunteering in my head." Along with Adapted football, Brad also volunteers with HandsOn Northeast Ohio, a non-profit that helps local residents who need support and resources throughout the cold winter months, and is willing to do anything to help out and to #give10.
Follow @BrownsGiveBack on Twitter and Instagram and tell us what you are doing to help others using #give10 to unite us all as Browns fans. Give 10 hours, help your community.
The Browns are dedicated to #give10 through the team's First and Ten initiative. Launched in June 2014, the Cleveland Browns First and Ten campaign is the team's community program, established to inspire fans to volunteer in and help their communities throughout the world by volunteering for 10 hours each year. Since its inception, Browns fans have committed to volunteering more than 1 million hours to impact their communities by pledging to #give10. Through First and Ten, the Browns are the only NFL club to promote a long-term volunteering program that unifies the team and its entire fan base, with the goal of impacting every individual's city across the globe, as well as the franchise's local community. All Browns fans are encouraged to join the volunteering effort by signing the First and Ten pledge on the team's website and by sharing their stories with #give10