*The Cleveland Browns are committed to the community. Through First and Ten, the Dawg Pound is encouraged to share what they are doing to give back. Get inspired and check out what these fans are doing to help their community:
*How do you give back?#give10
Name: Tom Cartwright
Hometown: Kenilworth, NJ
How they give back:
Tom, a former Marine and current Air National Guard reservist, is a parole officer in New Jersey and has been volunteering for five years. Tom and his local unit PBA 326 just entered their fifth year raising money for the American Cancer Society's Making Strides Against Breast Cancer Annual Walk. Tom and his group were able to finish in the top 10 this year in fundraising and were able to donate nearly $5,000 back to the American Cancer Society. In addition to volunteering with his police department, Tom also helps out at the American Legion where they participate in such events as Toys for Tots and Breakfast with Santa. Thanks for your service Tom and for giving back to your community!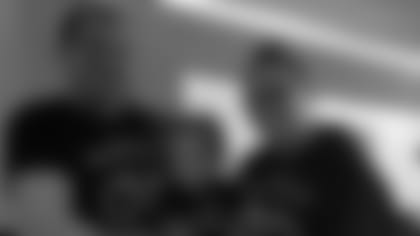 Name: Randy Stevenson
Hometown: Berea, OH
How they give back:
Randy is a veteran who works at Baldwin Wallace University as a liaison between the students and the community. He has a heart to serve and is very drawn to bringing people together. He is set on developing leaders and does so with ease. He plans outside events including basketball and other events that build comradery between service members. When Randy got out of the service he decided to keep his philanthropy going by serving others just as he had before, just in a bit of a different way. Randy helps people transition to higher education and has gone above and beyond to do so. He's incredibly passionate about what he does and many members of the student veteran organization.
Name: Megan Valentine
Hometown: Ashland, OH
How they give back:
Megan began volunteering with the organization through Elk & Elk's partnership with the Cleveland Browns. Megan's first #give10 event was assembling care packages for the USO, and she said, "It was an incredible experience." Megan also said, "The best part of assembling care packages and deployment bags for the USO was knowing that our efforts would directly benefit the hardworking men and women serving our country." In addition to helping out the USO, she also volunteers at various firm-sponsored charity events throughout the year and serves as a communications and marketing consultant for Aphasia Recovery Connection — a community for people with aphasia and their caregivers.
Name: Ben Rivera
Hometown: Yonkers, NY
How they give back:
Ben had a tough upbringing in New York, but then he joined the military and started attending Baldwin Wallace University as a reservist. Once he joined the student veteran organization on campus it pretty much changed his life. With the encouragement and mentorship of Randy, he has really blossomed. He began giving back in his spare time, which he attributes to his Christianity. He has found opportunities to support others through pre-game motivational talks at North Olmstead Middle School prior to football games as well as connecting with the local Cub Scout troop on a different level. Ben can also be found doing colors as well as conducting funeral honors for fallen soldiers and local funeral homes, making sure they have support and feel as though they are appreciated and that older people care. Since he began studying in the Spring semester, he has been actively involved in giving back to the community.
Name: Jay Kelley
Hometown: Cleveland, OH
How they give back:
Jay is a partner at Elk & Elk, and this past Tuesday he and his staff helped the Browns give back and #give10 to military members and their families. Jay and the Elk & Elk team collaborated with Browns players and staff and the USO of Northern Ohio to assemble nearly 500 care packages and deployment bags. When asked how excited Jay was about this event he said, "We are so flattered and honored to be included by the Cleveland Browns and the USO of Northern Ohio to be a part of this event." Elk & Elk is a proud sponsor of the Browns and has assisted with various community outreach programs in the past, so they willingly donated $2,500 for the project in addition to their volunteer hours.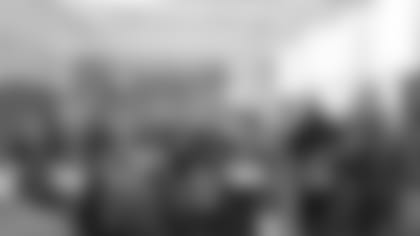 Follow @BrownsGiveBack on Twitter and Instagram and tell us what you are doing to help others using #give10 to unite us all as Browns fans. Give 10 hours, help your community.
The Browns are dedicated to #give10 through the team's First and Ten initiative. Launched in June 2014, the Cleveland Browns First and Ten campaign is the team's community program, established to inspire fans to volunteer in and help their communities throughout the world by volunteering for 10 hours each year. Since its inception, Browns fans have committed to volunteering more than 1.5 million hours to impact their communities by pledging to #give10. Through First and Ten, the Browns are the only NFL club to promote a long-term volunteering program that unifies the team and its entire fan base, with the goal of impacting every individual's city across the globe, as well as the franchise's local community. All Browns fans are encouraged to join the volunteering effort by signing the First and Ten pledge on the team's website and by sharing their stories with #give10**