*The Cleveland Browns are committed to the community. Through First and Ten, the Dawg Pound is encouraged to share what they are doing to give back. Get inspired and check out what these fans are doing to help their community:
*How do you give back?#give10
Name: Sharon Weigand
Hometown: Cleveland, OH
How they give back:
Sharon has always had a passion for feeding the hungry. Sharon's passion began with her support for Harvest for Hunger through her employer. She has volunteered at the food bank two times now. However, her last visit was the first time she learned about the backpack program to feed children. This is where students are given a backpack full of food that can help feed their families, but it is gifted in a discrete way as to not draw attention to the need. She was very impressed with the program and was very happy to be able to help fill backpacks with her fellow Browns Guest Services employees.
Name: Oswald Companies
Hometown: Cleveland, OH
How they give back:
Last week Oswald Companies joined forces with Browns Give Back through this volunteer program and Shoes and Clothes for Kids to put on their annual "Day of Caring." Oswald volunteers helped package together donated items which included a mixture of clothes, shoes, school supplies and other items. The "Day of Caring" this year was sponsored by OswaldCLIMBS, a young and up and coming leadership initiative at Oswald. The group has volunteered before as a part of First and Ten gathering their staff members and coming together on one day to give back and help others in the Greater Cleveland area through park clean-ups, on-site renovations, animal health and safety efforts and more.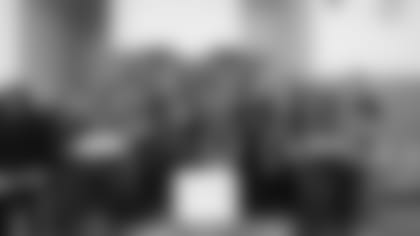 Name: Karestyn Robinson
Hometown: Cleveland, OH
How they give back:
Karestyn is a member of the Cleveland Browns Guest Services department and also a First and Ten volunteer. Karestyn takes great pride in being able to offer her time to the Greater Cleveland Food Bank. She believes that helping organizations, like this one, is a crucial part of community involvement During her time at the food bank, she realized that there was no better way to give back and gain experience than to jump in and assist hands-on. Karestyn says that she would highly recommend getting out and joining the Browns organization and First and Ten movement, you never know how your contribution, big or small, will help your community.
Name: Isaiah Crowell
Hometown: Columbus, GA
How they give back:
With Thanksgiving being this week, Browns RB Isaiah Crowell chose to #give10 and help out his hometown of Columbus, GA. Crowell donated 100 turkeys back to his hometown church, United Methodist Church, in an effort to feed 100 families a thanksgiving meal. When asked why Crowell chose to give back to his community he said "I love my church and I love my hometown this is another way for my family and I to show our love for Columbus." 
Name: Brian Walsh & Calvin Turner
Hometown: Cleveland, OH
How they give back:
Brian is also a member of the Browns Guest Services team and he spent a Saturday helping out the community and choosing to #give10. Brian helped out at the local Cleveland Food Bank by sorting and packaging donated items to families in need. This was Brian's first time ever volunteering at the Food Bank and prior to starting he was curious to see how everything worked. By the end of his first volunteer experience Brian said that he was impressed at how smooth everything ran and that it was a fulfilling experience. Calvin Turner is also a Cleveland Browns Guest Services Team Member who has a passion to give back to others. He was thankful for the opportunity and to work with the Cleveland Browns who are so actively involved helping the less fortunate. He was also surprised to learn how much time and effort goes into ensuring that kids have food on the weekend. That's commitment!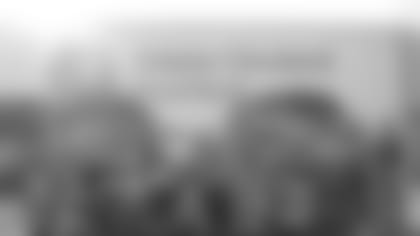 Follow @BrownsGiveBack on Twitter and Instagram and tell us what you are doing to help others using #give10 to unite us all as Browns fans. Give 10 hours, help your community.
The Browns are dedicated to #give10 through the team's First and Ten initiative. Launched in June 2014, the Cleveland Browns First and Ten campaign is the team's community program, established to inspire fans to volunteer in and help their communities throughout the world by volunteering for 10 hours each year. Since its inception, Browns fans have committed to volunteering more than 1.5 million hours to impact their communities by pledging to #give10. Through First and Ten, the Browns are the only NFL club to promote a long-term volunteering program that unifies the team and its entire fan base, with the goal of impacting every individual's city across the globe, as well as the franchise's local community. All Browns fans are encouraged to join the volunteering effort by signing the First and Ten pledge on the team's website and by sharing their stories with #give10**