The Cleveland Browns are committed to the community. Through First and Ten, the Dawg Pound is encouraged to share what they are doing to give back. Get inspired and check out what these fans are doing to help their community: 
CathyHometown: South Euclid, OHCathy works at the Learning Resource Teacher at Adrian Elementary School in South Euclid, Ohio. Cathy gives back to my students and to her community by writing grants to First Book National Book Bank. With the monetary help for the shipping costs from Mayfield United Methodist Church in Chesterland, Ohio and other grants written to Legacy Village, Cathy is able to give students brand new, quality books. They take the books home to keep after completing projects in my classroom with them. Last year, Cathy was able to distribute 15,376 books valued at $177,920 to her students! In addition, Cathy provides books for a Free Little Library at the South Euclid Police Station and puts free books in the Little Library just outside the school's front door. Thank you for all that you do, Cathy!
BenHometown: North Canton, OHBen has been working for a homeless ministry that is called Matthew 8:20 for about 2 years now. The main focus of Matthew 8:20 is to help make sure the homeless are receiving food, finding clothes, or assisting them find help for whatever they may need. Ben mentioned that some of the homeless that they deal with do have houses but do not have needs such as electricity or water, so it is their job to help these people dealing with issues such as that. The homeless ministry that Ben works with is a street outreach program, meaning that workers and volunteers for Matthew 8:20 are out in the community with those they are helping. Ben believes that people are meant to take care of each other and look out for each other and that's why he enjoys working for the organization so much. Ben says that people need to have faith in in each other and be willing to help those in need who may be looked over.
JoeHometown: Lyndhurst, OHJoe has been a member of the Board of Directors of the DDC Clinic – Center for Special Needs Children since 2010 and currently serves as Treasurer.  The DDC Clinic is a non-profit primary care and research facility serving people with special needs caused by rare genetic disorders.  It was established on the concept of a medical home – a family-centered specialized care clinic that improves the health, welfare and potential abilities of all people with special needs.  One of the basic principles of the DDC Clinic is that no child would ever be turned away from the medical care he or she needs based on their family's ability to pay.  Joe feels that his work at the Clinic is important because it allows him to give back to those in need, especially children, and to help provide services and opportunities that otherwise might not have been available.  Through his commitment to the DDC Clinic, Joe hopes that he is able to make a difference in the lives of these children and their families. Thanks, Joe!
Off the Lake Productions – Student Organization at the Ohio State UniversityHometown: Columbus, OhioOff the Lake Productions is a completely student-run and service based musical theatre organization at the Ohio State University.  Each active member of OTL is required to perform at least 25 hours of service per school year.  This past year, OTL had a total of 1,013 hours of service completed throughout the fall and spring semesters.  Off the Lake serves a variety of initiatives and events around the Columbus community.  They also put on multiple performances throughout the year.  Admission to the spring musical each year costs $1 or one canned food item: both donated to local charities.  Off the Lake's version of Hairspray this past spring raised $3,328 for A Kid Againcharity, and helped donate 1,270 pounds of canned goods to the Mid-Ohio Food Bank.  In addition, Off the Lake's team at Ohio State's Dance-a-thon, BuckeyeThon, raised $11,365.07 for Nationwide Children's Hospital.  At the Orange and Brown Scrimmage on August 6th, 150 members of OTL took the pledge to #give10!  Thank you for all the work you are doing to help your community.  You are making a huge difference!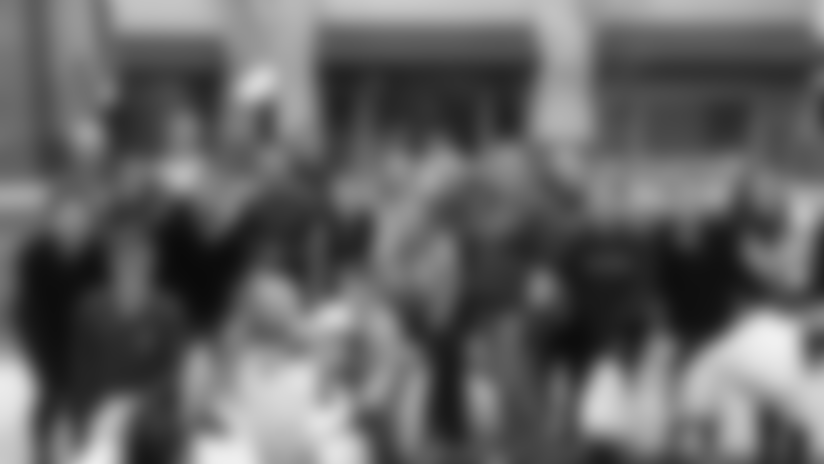 Follow @BrownsGiveBack on Twitter and Instagram and tell us what you are doing to help others using #give10 to unite us all as Browns fans. Give 10 hours, help your community.
The Browns are dedicated to #give10 through the team's First and Ten initiative. Launched in June 2014, the Cleveland Browns First and Ten campaign is the team's community program, established to inspire fans to volunteer in and help their communities throughout the world by volunteering for 10 hours each year. Since its inception, Browns fans have committed to volunteering more than 1 million hours to impact their communities by pledging to #give10. Through First and Ten, the Browns are the only NFL club to promote a long-term volunteering program that unifies the team and its entire fan base, with the goal of impacting every individual's city across the globe, as well as the franchise's local community. All Browns fans are encouraged to join the volunteering effort by signing the First and Ten pledge on the team's website and by sharing their stories with #give10.