Thank you to the following individuals who are giving back! We encourage community service and all acts of giving back and are proud of our fans who continue to make a difference. These outstanding individuals are pillars in their communities and inspire us all to #give10.
What they do to give back:
The points that Padua Franciscan punter and kicker Dan Madden scored on the field impacts more than a game, it's helping save lives. When Dan found out that his two year old cousin was diagnosed with leukemia, he felt helpless, "I couldn't do much to help her; all I could do was pray. Now I have a way to help kids like her." Inspired by his cousin, the All-Ohio Punter went on a mission and joined Kick-It, a national volunteer effort focused solely on raising money for children's cancer research. For every point that Dan scored this past season, he donated $1 to *Kick-It. *Dan didn't stop there, he challenged his peers and community to get involved and match his efforts. Dan has surpassed his $2,000 goal and has raised $2,576 to date! To donate: www.kick-it.org/games/2014/08/padua-kohls-kickers-challenge.
Hometown: Frazeysburg, OH
What they do to give back:
The Wriston's are committed to giving ten and helping the local community and one way they do that is by volunteering at their local food pantry for the last three years. They pick food up, pack food in bags, stock shelves – whatever they can do to help. The Wriston's also work to bring money into the food pantry by doing "back sale" raffles. During the holiday season, you can find them making holiday meal boxes to take to families in need. They #give10 by making "hope bags" for the homeless, putting together hand warmers, socks, wet wipes, and coupons for those in need. Thank you Wriston's for your commitment to helping feed and take care of those in your community.
What they do to give back:
Two years ago, Michael took over Willowick's Youth Football League. He and his team has invited kids from all over to take advantage of their program and have grown to over 230 athletes in Flag Football for kids ages 5-6; Tackle Football for kids ages 7-12; and Cheerleading for girls ages 3-12! They launched their 2014 season with 6 Flag Teams, 6 Tackle Teams and 6 Cheerleading squads. Their goal was making sure no-one is left out, either helping financially or with transportation. Thank you Michael and the rest of the Willowick Youth Football League for offering up this opportunity to as many of our youth as possible.
What they do to give back:
At Horizon Science Academy in Cleveland, the 4th and 5th graders are learning at an early age how important it is to give back to the community. Ms. Wintrich and her students have been volunteering at their local nursing home throughout the school year. Every Monday, the residents at the center have an activity hour which her students have the opportunity to attend. Two Mondays out of the month, her students get together and help the residents play BINGO! The 4th and 5th graders also help within their school by reading to the 1st graders – learning right from the beginning how important it is to #give10.
What they do to give back:
Kristen and her co-teacher are student council advisors for an intermediate school located in Ashtabula City. Over the past few months, their members have made cards for Veterans at one of the local nursing homes. As they year went on, they also started a canned food drive to collect canned goods for a local church. This month, they continued to #give10 by filling Christmas stockings for soldiers stationed away from home during the holidays. As student advisors, Kristen and her co-teacher promote monthly community service activities – we thank you!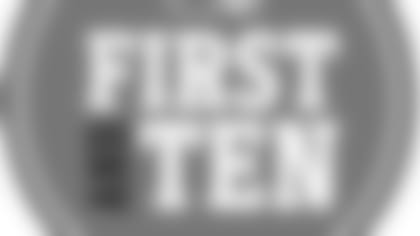 Make sure to let us know how you are giving back! Share your stories of goodwill on the First and Ten webpage or through @BrownsGiveBack to be recognized for your work!