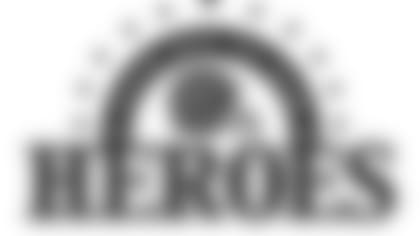 The Cleveland Browns 'Hats Off to Our Heroes' program is a signature program that focuses on recognizing and honoring local heroes for their service during each home football game! To kick off the 2016 season, WAGS 4 WARRIORS, an organization to help service men and women that have been affected by their combat experience were the first to be honored in Cleveland Browns Honor Row. Veterans who are a part of this organization were honored at the Browns vs. Falcons preseason game on August 18th.
WAGS 4 WARRIORS is a program that strives to unite those who suffer from PTSD or TBI with a dog, to take away the struggle that some veterans face every day after returning home from war. WAGS 4 WARRIORS works with local rescue organizations in North east, Ohio to match a veteran with an appropriate furry companion to ensure that the veteran and dog are the perfect match! WAGS 4 WARRIORS provides all of the training, equipment and support for the dog to become the veterans service dog at no cost.
During the game, veterans who are a part of the WAGS 4 WARRIORS program were honored and recognized for their service to the United States during the game in the Browns Honor Row.
Thank you to WAGS 4 WARRIORS for what your organization does for those who have served our country. The Browns are committed to supporting the military year round through the First and Ten movement. To learn more about how you can help support WAGS 4 Warriors click here visit their website.
Have you taken the Browns First and Ten pledge? Click here to join the movement today.
The Browns are dedicated to #give10 through the team's First and Ten initiative. Launched in June 2014, the Cleveland Browns First and Ten campaign is the team's community program, established to inspire fans to volunteer in and help their communities throughout the world by volunteering for 10 hours each year. Since its inception, Browns fans have committed to volunteering more than 1 million hours to impact their communities by pledging to #give10. Through First and Ten, the Browns are the only NFL club to promote a long-term volunteering program that unifies the team and its entire fan base, with the goal of impacting every individual's city across the globe, as well as the franchise's local community. All Browns fans are encouraged to join the volunteering effort by signing the First and Ten pledge on the team's website and by sharing their stories with #give10.
Follow @BrownsGiveBack on Twitter and Instagram