*The Cleveland Browns are committed to the community. Through First and Ten, the Dawg Pound is encouraged to share what they are doing to give back. Get inspired and check out what these fans are doing to help their community:
*How do you give back?#give10
Name: Leslie Fallon
Hometown: Tampa, FL
How they give back:
Leslie chose to walk at the American Cancer Society's Making Strides Against Breast Cancer Walk for those who can't. Leslie feels that raising awareness for the disease that affected members of her family, and so many others, empowers the community to come together for a common good. She says that being able to see men and women cross that finish line, with heads held high, hands raised and proud smiles gives you a reality check on what's important in life. In the end, Leslie chose to walk to end cancer, bring the community together, encourage those affected to fight a good fight and remind them that they are not alone.* *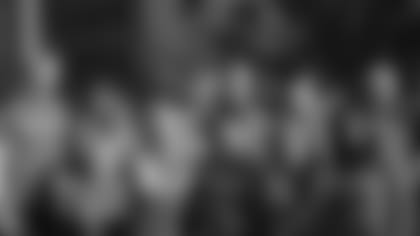 Name: Taylor Reedstrom
Hometown: Massillon, OH
How they give back:
Taylor gives back by being the active Philanthropy and Community Service Chairman for the Sigma Nu Fraternity around his campus. Taylor was recruited to this fraternity and truly saw the benefit of joining such a class-act organization. He says, "It is so much more than a group of guys you get to hang out with on a consistent basis; it's a small business that strives to give back to the community based on our values of love, honor and truth." In the end, Taylor says this is what really drew him in and pushed him to get this position because he loves giving back.* *
Name: Michael Frederick
Hometown: Sandusky, Ohio
How they give back:
Michael is involved with a committee of veterans from his work with UAW Local 1216. Michael's local chapter holds raffles throughout the year, and the funds generated from the raffles are used to purchase everyday items for the veterans at the Ohio Veterans Home in Sandusky. Michael chooses to continue to volunteer because he is a veteran and is able to provide for himself, and he says, "To see these men and women go without should never happen."
Name: Logan Maag
Hometown: Dayton, OH
How they give back:
Logan enjoys volunteering for groups and helping populations that improve pediatric, environmental and community health. His specific group is the Global Health Initiative (GHI). Logan joined GHI two years when he started medical school and wanted to get more involved in the healthcare of our global community. He continues to volunteer with GHI because he enjoys it and feels it is a responsibility to improve the healthcare access of all members of our connected community.* *
Name: Jill and Dave Borkowski
Hometown: Holland, Ohio (Toledo)
How they give back:
Jill and Dave got involved with the Puppy Rescue Mission three years ago when they learned about the group on Facebook. They combined the two things they were most passionate about — helping homeless animals and supporting our troops — by making it possible for our military to bring home stray dogs and cats they can bond with. Jill and Dave both continue to do it because helping stray animals, the veterans and making a difference brings them great happiness. 
Follow @BrownsGiveBack on Twitter and Instagram and tell us what you are doing to help others using #give10 to unite us all as Browns fans. Give 10 hours, help your community.
The Browns are dedicated to #give10 through the team's First and Ten initiative. Launched in June 2014, the Cleveland Browns First and Ten campaign is the team's community program, established to inspire fans to volunteer in and help their communities throughout the world by volunteering for 10 hours each year. Since its inception, Browns fans have committed to volunteering more than 1.5 million hours to impact their communities by pledging to #give10. Through First and Ten, the Browns are the only NFL club to promote a long-term volunteering program that unifies the team and its entire fan base, with the goal of impacting every individual's city across the globe, as well as the franchise's local community. All Browns fans are encouraged to join the volunteering effort by signing the First and Ten pledge on the team's website and by sharing their stories with #give10**